Your 2023 Guide To Australian Online Lotteries

Oz Lotteries is the online casino for a number of Australian lottery games, including the Oz Lotto, Powerball, The Pools, and the Monday, Wednesday, and Saturday Lottos. This Australian lottery online casino offers top real cash prizes.
With several Australia lotto sites available, our reviews team have shortlisted the best sites here. If you want to get started quickly, why not take a look at our overall top lotto site for June 2023, Win Trillions?
There are a lot of advantages to playing through a reputable online lottery casino:
Convenience – a real money online casino allows you to buy tickets from the comfort of your own home, and you don't even have to check them yourself to see if you have won
Peace of mind – no more worrying about keeping your ticket safe. By using an Australian lottery casino, online programs keep a record of your purchase.
Extra prizes – some online casino lottery sites offer a 'points' system, bonuses or other loyalty schemes, meaning that the more tickets you buy, the more free tickets or extra draws you can earn in future on the site.
The Top Australian Online Lottery Sites in 2023
About The Australian Lotto
The lotteries on the online casino are owned by the two Australian operators, Tattersalls and NSW Lotteries. The Oz Lotteries site is an approved sales agent of these two companies and is closely monitored by the Australian government. The best part is, by playing the Australian lottery casino online, you don't even have to check the lotto results. Simply sign up via the Australian lottery website and the online casino will email you if you are one of the lucky winners.
Monday Lotto

This lottery is drawn every Monday and can be played via the online casino. Eight numbers are drawn out of a possible 45, with the last 2 acting as 'supplementary numbers', used for the lower prizes, and the first 6 being the 'winning ones. The chances of winning the main prize is 1 in 8,145,060.
To win a standard game, you choose 6 numbers and there are different prizes available depending on how many of your numbers match the lotto results.
However, by playing a 'system', you can pick additional number combinations and your entry is then valid for all the combinations of numbers you have picked.
Wednesday Lotto
The Wednesday Lotto runs exactly the same way as the Monday Lotto, with the winning combinations split out in the same manner. Meaning you don't have to match all 6 numbers to be a winner, you can still win the big bucks without getting all the numbers correct.
This Wednesday draw is aired a little later than its Monday counterpart however, at 10:30pm AEST. So be sure to wait up for this draw to check your numbers, or you can see them online after the draw at your leisure.
By playing the Australian lottery casino online, you don't even have to check the lotto results.
Saturday Lotto
Similarly to both the Monday and Wednesday Lottos, playing the Saturday Lotto means picking out 6 numbers between 1 and 45. It also boasts similar odds but the prizes are calculated on a pari-mutuel basis. This means that your prize haul will be dependent upon ticket sales as well as how many other winners there are in a given division.
Although Saturday Lotto is recognised across New South Wales and Western Australia, the game is marketed under alternative names depending on each region:
Queensland - Gold Lotto
South Australia - X Lotto
Victoria, Tasmania, ACT, and the Northern Territory - "TattsLotto"
Powerball

Another way of playing Oz lotto via online casino is Powerball. There is real money to be won through this online casino lottery, with top prizes running into many millions, but the chances of winning are considerably lower than with Lotto.
Powerball works by 2 sets of numbers being drawn from 2 separate machines. To play a standard Powerball, you must pick 6 numbers from the first machine that contains 40 balls, and one 'Powerball' number from the second that contains just 20. Then 6 numbers get drawn from the machine with the most balls and 1 from the other. If all your numbers match, then you are the lucky 1 person in 76,767,600 to win the full prize.
Set For Life

The Set For Life lottery is a lottery with a difference – instead of receiving a lump sum, winners get paid a large sum monthly for twenty years. So if you're not so good at handling real money, Set For Life could be the lottery for you. It's an inter-state lottery in Australia and playing is slightly different from a normal lotto. Once you have picked your 8 numbers between 1 and 37, the numbers will be valid for every daily draw throughout the week.
The Pools
Here's one for all you soccer fans out there – an Australian lottery based on matches in Australia and Europe. The Pools essentially works like a normal lotto, so you can still play this in the online casino even if sport isn't your bag. The numbers of 1-38 refer to 38 listed matches, and you simply have to choose 6 numbers within this range. The winning numbers are the accumulation of the 6 matches to the highest total drawn score (sounds complex but is quite simple – for example, the match that draws 5-5 has a higher total score than the match where the teams only drew 4-4).
Super 66

The Super 66 is drawn after the main Lotto. There are two ways to play: it can be played as a separate game, or you can simply tick the 'Super 66' box on an existing lottery ticket, such as the Saturday Lotto, The Pools, Oz Lotto, or Powerball. The chance of winning the top prize is relatively big for a lottery – only 1 in 1,000,000. To win the best prize, you must match all 6 numbers, but you can also win some cash just for picking the first or last numbers in the right order. The online Australian lottery will give you this 'add-on' option when you play in the online casino.
Global Lotteries
In days gone by, we had to get off our comfy sofas, walk to the nearest corner shop and purchase a lottery ticket in order to be in with the chance of winning big in a few limited national and local lotteries. But now you can just about play any lottery. Online casino options have opened up a world of possibilities – you are now no longer bound to just choosing from your local or national lotteries, but with online casinos you can win real money by playing lotteries from all over the world. Playing this way means you don't have to spend hours researching different Lottos and can focus on finding your favourite, as you'll have lots of options to choose from.
When buying a ticket from a 'middle-man' online casino lottery, it is always worth checking the site's terms and conditions. There are some that charge a fee if you win, some that claim the winnings and give them to you, and some that send you the ticket if you win so you can claim the prize yourself.

Lotterymaster.com - An online casino that shows you only the global lotteries that you are able to play, gives you the winnings after tax has been deducted, and only charges the cost of the bank transfer.

Playhugelottos.com - Another online lottery casino that has a number of global lotteries and doesn't charge if you win.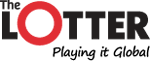 Thelotter.com - Provides a lottery ticket buying service without charge if you win, but this online lottery casino does charge a premium for buying the ticket in the first place.
Frequently Asked Questions
What lotteries can I play?

What Australian lotteries CAN'T you play might be a better question. The great thing about an online casino lottery is that many of the world's lotteries are at your fingertips. By playing online you can say goodbye to being restricted to local or national lotteries, and hello to a whole new world of top cash prizes. There are, of course, some restrictions and these all depend on the country you are in, the country the lottery is in, and individual terms and conditions of each lottery. For this reason, it is always worth checking before you buy through an online casino, but many sites will show you only the lotteries that you are allowed to enter, so this can make life a lot easier.

How do I play online?

The online lottery casino industry has made it easier to play the lottery and check lotto results. You simply sign into the online casino, pick the lottery you wish to play, and give them your desired numbers. They do the rest – most even emailing you if you win. Of course, all lotto sites are slightly different in how you register and play, but follow their instructions and you will be fine.

Is it legal?

There are different rules governing different countries and different lotteries so, when using an online casino, you must always check the laws specific to the country in which you are actually making the purchase, and the individual rules of each game. This information should be relatively easy to find doing a quick internet search or checking the FAQ section of the online casino site you are using.

What lottery is more popular in Australia?

The Saturday Lotto is played nationwide in Australia and is one of the most-played lottery draws. It is easy to play via the Australian lottery casino online.

Which ones offer biggest wins?

Oz Lotto and Powerball normally have very high top cash prizes, but this also goes hand-in-hand with a lower chance of winning than some of the other lotteries.

Which one has best odds of winning?

The Super 66 Australian lottery has relatively good odds at only 1 in 1,000,000 to win the main prize.

Can I play non-Australian lotteries?

YES. Online lottery casino have a range of Lottos across the world that you can play, and playing is as simple as registering on the online casino and choosing your numbers.

How do I find out the results?

Most online casino sites will email you if you win, although you can go online and check results if you wish to make sure.

Are online lottery tickets valid?

When playing on an online casino, tickets are as valid as if you bought them from a shop because they are being physically bought. Most of the best online casino lottery sites have agents who get sent out to buy tickets, and some even send you a scan of the ticket so you can rest assured it has indeed been purchased.
Playing Online Lotteries On Your Mobile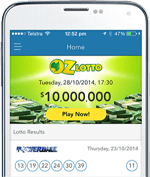 Mobile gambling has never been easier. Armed with a smartphone, you can access all your favourite games and play them in exactly the same way as you do on your desktop. Great for those long, boring car rides or when you are abroad. Although some people prefer the bigger screen on a desktop, many find playing through the app offers them greater speed and better graphics. There is no need to worry about security either – we make sure we test every online casino that we recommend. This is so you can enjoy playing online, safe in the knowledge that you're at a reputable online lottery casino.
How accessible it is
Smartphone play is as accessible as any other apps you use. All you have to do is download one of the apps on our list to your mobile device and register as normal. Once you've made your first deposit, you can play till your heart's content whenever and wherever you wish (staying within your budget of course).
Other important info
On a smartphone you have the option of playing online casino lottery via your browser or through the apps you have selected. It is best to play the online casino games in app form as they will have been designed to work best like this. You'll experience much better visuals and usability.