2022's Best Online Sports Betting Sites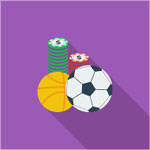 Betting on sports is a very popular activity in Australia, and online sportsbooks are plentiful. Here we provide you with a ranked list of the highest quality online sports betting sites.
At these sites, you'll find a range of sports on which you may wager, including those that are commonly enjoyed in Australia. You'll also find games, matches, races, and contests from other regions like Asia, Europe, and the US.
One of the most important factors when deciding which real money gambling site you should join is the selection of sports and online casino games that each site offers. This is why our reviews team has shortlisted those online casinos with the most comprehensive sports betting sections. Head straight to the overall top site for 2022, Sportsbet Casino, or take a look at the other recommended sites on this page.
Check our sports betting online reviews to find great features:
Major sporting events and leagues across football, rugby, tennis, horse, dog racing, and more
Wide range of betting types, from straight bets to complex wagers for experienced players
Wager on the outcome of live events or make your picks in advance.
Best Australian Online Sports Betting Sites 2022

Related Guides
Gambling Guide

Check out our FAQ, get tips for beginners or experts.
Free Games

Visit our free games page and play your favourite casino games.
10 Tips

Improve your online gambling skills with free tips
Popular Sports for Betting
What sports will you commonly find at the best sports betting sites Australia has to offer? You'll be able to bet on Australian Football matches, National Rugby League games, Rugby Union games, soccer, and cricket. These are all commonly found at online sportsbooks that are available to Australian bettors.
You'll also often be able to wager on golf, auto racing, cycling, tennis, boxing, MMA, and swimming. Basketball, baseball, football, and ice hockey may be offered. Games in North American leagues, including college and professional basketball and football, are usually available, alongside leagues focusing on these sports located in other parts of the world such as Europe, South America, and Asia.
As an example, along with the NBA, you may find that some professional Aus sports betting online websites include basketball games played in leagues in Australia, Japan, Europe, and Mexico. Another popular league is the WNBA, which is a US entity.
Soccer is often extensively covered. Sports bettors can often find bookmakers that offer action on some or all of the following foreign leagues, Barclays English Premier League, Bundesliga (Germany), Ligue (France), Serie A (Italy), MLS (USA), and La Liga (Spain).
Punters will find many online sports betting sites from which to choose. It's recommended that you look at an online betting guide and don't confine your betting to one book.
Sports Betting on the Tracks