CrownBet

Sports Betting

2023

Review

The 30 Second Guide To CrownBet
Most sports available to bet on

Live betting feature

Supports popular races
Mobile betting support

Simple interface

Established in
CrownBet is a leading betting establishment that's known for its huge selection of sports betting options, clean interface and top-notch security, making it one of the leading places for Australian players to gamble on their favourite sporting events.
Information
Sportsbook Name

CrownBet

Established:

2014

Payout Speed:

2 – 6 days

Platforms

Payment Options

Free Phone:

13 2769

Website:
About CrownBet Bookmakers

CrownBet is a relatively new bookmaker that was established in 2014. It's a well-known betting establishment that offers betting options for most sporting events from around the world. The website has a clean interface, simple terms and an easy setup process, making it easy for new players to get started. It's a good reliable location to play, and something that's worth considering if you want to get into sports betting.
The site offers additional perks that you won't find at all sportsbooks online. Features such as mobile betting and live betting are available to players interested in giving them a try. You'll enjoy all the different betting options that you have available while playing at the betting site.
Available Bonuses and Promotions:
While the frequent sports betting tips offered and careful odds that are presented are both nice features, the thing that long-term players at CrownBet will enjoy the most is all the different bonuses and special offers that are made available. Thhis sportsbook offers a bonus bet match of up to $50 for brand-new players that make their first deposit, but that's not the only bonus to be had at the site. Bookmakers will thoroughly enjoy all the sports-specific bonus offers that are available periodically. Some games offer double reward points, others give cash back prizes for special occurrences during key sporting events. There is always a bonus to look forward to, and serious players should be working hard to take advantage of as many of them as possible.
There's a total of 34 different sports that are supported by this online betting establishment. That means that just about every popular, and not-so-popular sport is covered and available to bet on. Here's a breakdown of some of the most popular options available.
Cycling
Basketball
American Football
Cricket
Boxing
Baseball
Golf
Rugby
Motor Sport
Tennis
Handball
Snooker
Soccer
Each of the different sport options shows of a list of the different matches that are occurring around the world, and sports betting odds for the different teams or players involved. Online betting with CrownBet is simple to do, and even new players can get in there and quickly figure out how to place the desired wager. Real cash prizes are paid out based on the odds involved with any specific match as well, making it easy to see which bets make sense and which ones you would rather avoid when looking over matches.
CrownBet Racing
CrownBet offers three different racing options to new players. There's Greyhound, Harness and Thoroughbread racing. No matter which of the three you're into, there's a detailed menu available for each one individually, and it's easy to find and make use of the different betting options. When you play at CrownBet Sports, you'll have a variety of different tracks and venues to pick from from around the world, and then all the different wager options are available, making it easy to choose the one that is right for you.
The Live Centre
One cool feature that I want to point out for this CrownBet online review is the Live Centre. It's a part of the website that allows visitors to place wagers during an actual sporting event. Players can bet on the outcome of the match before it starts, and then bet on more specific occurrences as the match takes place. This helps to increase the total immersion into the game, and for serious fans, it's an exciting bonus feature that really makes playing at CrownBet enjoyable.
Different betting options become available as a game progresses, and only the serious players that watch the match will be able to take advantage of them all.
Review of CrownBet Mobile App

While making this CrownBet online assessment, I noticed many exciting features that were worth recognition, but the mobile app support and instant play were one of my favourite features. There is a CrownBet sportsbook app for both iOS and Android devices, making playing on tablets and smartphones like the iPhone and Samsung Galaxy simple. There is also an instant-play feature that allows users of other mobile devices like BlackBerry and Windows Phone to place wagers on the move as well. All these features are available to Australian real money players, so you can get started no matter what modern mobile device you have. The process is quick and easy to go through as well, making it good for new players that aren't sure they want to play using a mobile device. Once you get on the app for your device, you'll notice that sports are easy to select and finding events to bet on takes only a moment of your time.
Mobile players don't even have to have access to a full-sized computer in order to be able to deposit money and place bets. Instead they can just do it on a mobile phone or tablet like an iPhone or iPad. That's the beauty of playing at CrownBet. It works on most devices that you can find today, and it's simple and easy to make use of. There are few sites as accessible and easy to get started with. If you're looking for a quality site for mobile access, CrownBet is worth consideration.

Download the Mobile App
Mobile Bonus
Just like computer players, mobile users on this sports betting strategy site can enjoy a deposit match. The bonus is simple to unlock and can be activated immediately. Simply add up to $50 and enjoy a matched $50 for bets that you can place anywhere on the site that you would like. It's simple to do, and a good option for anyone that's tired of going to see the bookies themselves.
Get Started Fast
Mobile players don't have to worry about downloading an app or having the right version mobile software to play CrownBet games. That was one of the highlights of this CrownBet review. Instead, you simply sign into the website on your mobile device, and begin making bets right away.
The instant-play part of the CrownBet website runs using HTML5 and supports a variety of devices such as the Surface Pro, most HTC smartphones, Sony products and the Nokia Lumia phones. Even Blackberry and Windows Phone products will work at this bookmaker site. Just be sure that you sign into your account before you begin trying to make a wager.
iOS Users
Head over to iTunes and locate the CrownBet app
Download and install the app on your smartphone or tablet
Sign into the app using your account information
Begin placing bets on CrownBet using your existing balance.
Android Users
Visit the CrownBet mobile website and download the app directly
Open the CrownBet.apk file to install it
Sign into the app using your CrownBet account information
Choose a sport using the app and place a wager
CrownBet Casino Mobile Screenshots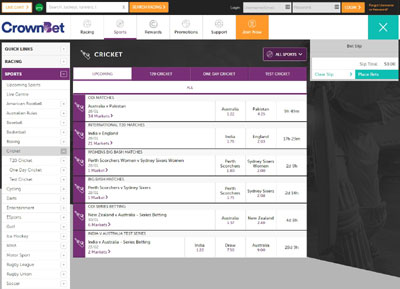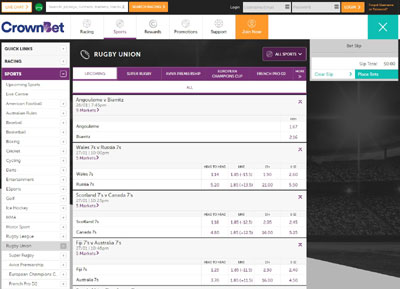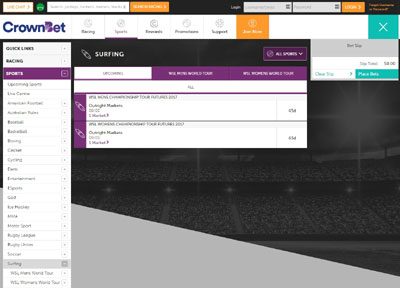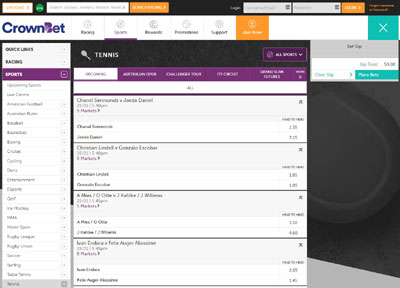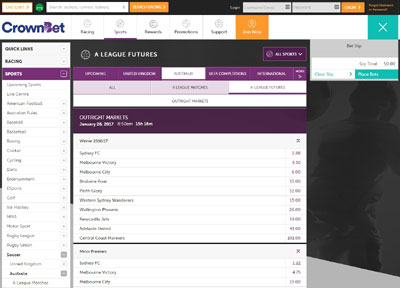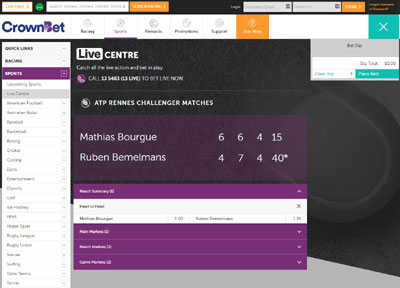 Download the Mobile App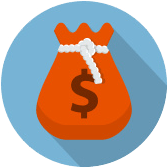 A wide array of banking methods is supported at Royal Panda and they are all completely secure. Players from Australia generally choose from the following options:
Getting started at the CrownBet Sports wagering site is simple to do and there are several different deposit options that you can make use of to get going. Most of the available options are simple to use. Getting started is as easy as choosing a common payment method that you're familiar with, and then making your initial deposit to get going. With credit cards, e-wallet services and mobile payment platforms all availalbe at the Crownbet sports betting site, it's easy to find something that you've used in the past. Here's a breakdown of your options.
Poli
BPay
MasterCard
Visa
PayPal
Customer Support and Supported Languages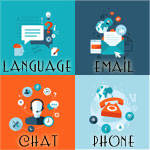 Customer support is always a key consideration when looking over a website, and we couldn't skip it while making this CrownBet online assessment. While examining the different aspects of the site, it was obvious how important customer service is to the sports betting site. If you run into an issue at any time of day, you can get help with it through the support section of the website. There's a dedicated phone available to players, there is also an email address that you can use to get help when you don't need it immediately, and the live chat feature is a simple tool for players in Australia that want immediate help.
Crownbet sports betting is a high quality online venue for gamblers interested in betting on their favourite sports. With support for 34 different sporting events and three different race activities, it's easy to find just the activity to wager on, no matter what you are interested in. It's simple to get started with all the different deposit options available, and once you do, you'll have a plethora of options to choose from.
Players can wager using both computers and mobile devices. Whether you want to bet on the outcome of a game before it starts, or more specific terms while it's going, both options are available at this site.
The betting site supports Australian Dollars and provides many incentives each and every month. While playing there, you'll frequently see different incentives for a variety of sports. You'll notice that they change regularly and you'll always have a reason to try out new bets, and to check back to see if new specials are being offered currently. There's no reason to suffer with poorly made sports betting sites, when you have such a good one readily available. Complete your AUD deposit, and start making use of the product right away. It's convenient and quick to get started with, and you'll love all the features that you have available from the minute that you begin playing.
Reviewed by: OnlineCasino.com.au™
Play at CrownBet Casino with your $150 Bonus Now!