SportsBet

Sports Betting

2023

Review

The 30 Second Guide To SportsBet
Running since 1993

Covers most sporting events

AU$510 bonus bet
Support for most common languages

Works on Windows, Mac, Android and iOS
Sportsbet is a well-known online bookmaker that offers one of the best sporting event selections available today for Australian players. The site is highly secure, comes packed with useful features like live betting and mobile support, and is incredibly easy to make use of.
Information
Sportsbook Name

Sportsbet

Established:

1993

Payout %:

96.59%

Payout Speed:

2-7 days

Platforms

Payment Options

Free Phone:

1800 990 907

Website:

Sportsbet is one of the leading online betting tools for players in Australia. It's a simple service to use, offers a variety of deposit methods and works with just about every sport that's played today. Whether you're a fan of snooker, tennis, football or something less popular like golf, there are betting options available through the service, and they're easy to make use of as well. Out of the many sports betting sites available, this one comes with a decent welcome bonus, and good enough offerings to justify joining it.
Available Bonuses and Promotions:
When joining a sportsbook, it's always nice to take advantage of some promotions to make being a new member a bit more lucrative and to help you get the most out of your early bets. The bookmaker offers a massive bonus bet of AU$501. To make use of this generous offer, you simply have to create an account at the website, sign into that account and place an initial bet. After doing so, the AU$501 is instantly credited to your account to use for further bets. It's a simple process to go through, and a good way to get started gambling online. You'll have access to reliable sports betting odds, and a good interface for most sports that you might want to wager on.
When it comes to the sports section of the Sportsbet online review, this is where the site really shines. That shouldn't come as a surprise, since the site has sport right in the name. Most common sports and many uncommon ones are supported by the site. Here's a quick breakdown of many of your options when using Sportsbet, as opposed to other online sportsbooks.
Cycling
Darts
Netball
Tennis
Basketball
Boxing
Cricket
MMA
Australian Football
American Football
Golf
Motor Racing
Snooker
Volleyball
Gaelic Football
Handball
Races Covered
Sportsbet is known for being a top location for placing bets on sports specifically, but that's not all that the site is good for. It's also a useful tool for placing bets on races, and the Sportsbet sportsbook app will work for that purpose. There are three different race types that are supported by Sportsbet, horse racing, harness racing and greyhound racing. Each is covered widely, and events from around the world are featured on the site.
The races are displayed with odds beside them, and guides for how to place real money bets. It's even possible to view some of the events live through the site itself. If you're interested in betting on upcoming races, it's likely that Sportsbet, will allow you to do so. There are plenty of sports betting tips available on the site, but the main benefit offered to race fans is the up-to-date odds as well as a quick calculator showing expected returns from a positive bet, just like you would look at a payout percentage at online bookmakers for certain games.
Live Betting
Live sports betting is an exciting feature that allows you to react as a game changes throughout the night. Not only does this type of betting encourage more interaction from players, but it also gives players more betting options to make use of. While placing wagers on any of the Sportsbet sports, it's a good idea to check to see if live wagers can be made as well. Test live wagers out using a computer or mobile app to see just how exciting of an online betting style it can be.
Sportsbet offers live betting on games like Tennis, Soccer and basketball. With the right sports betting strategy, it's possible to use this feature to earn even more off of these select games.
Review of SportsBet Mobile App

With most online betting sites turning to mobile gaming it's good to see that Sportsbet also supports mobile gambling for both Android and iOS users. While going through the Sportsbet Sports betting review, I tested out both the iOS and Android apps. Both were easy to obtain and to make use of.
Whether you own an Android device such as a Samsung Galaxy or Fire Tablet, or an iOS product like the iPhone or iPad, it's entirely possible to gamble at Sportsbet just like you would at other online bookmakers around the internet.
The mobile site is designed for easy operation and most players will find it quick and simple to place a bet and to look at the different odds and tips about upcoming events. There are even live bet options available while a game is going on for serious players that want to keep interacting with a game while it plays out in front of them.
Another nice thing about this bookmakers site for mobile users is that the same bonuses are offered as they are to computer users. That means when you join the site, you can get a deposit bonus and take advantage of all the regular bonuses that are offered throughout the month. It's a real asset to the bookmaker and makes it worthwhile for mobile users.

Download the Mobile App
SportBet Mobile Highlights
Easy to access
Supported on iOS and Android
Live betting supported
Deposit through mobile
Quick start
Clean interface
Mobile Bonus
The same bet bonus that's offered through the standard Sportsbet interface is available to mobile users as well. When you get on your Android or iOS devices, you can place a bet and unlock the AU$501 bonus to make use of for further bets at the online sportsbook.
Get Started Fast
Getting started with a mobile device is quick and easy to do, and not something that you should worry about as a new Sportsbet user.
iOS Users
Visit iTunes and locate the Sporstbet app
Download the app to your mobile device
Sign into the mobile app using an existing Sportsbet account
Choose a game to try out and start playing it on your device
Android Users
Visit m.sportsbet.com.au/android
Download the app that pops up
Sign into the app using a created account
Play favourite mobile games right through the mobile interface
Excellent Mobile Support
Sportsbet doesn't just stop with Android and iOS support. There is also an instant bookmaker site that makes it possible for players using a Surface Pro, an HTC, a Nokia Lumix or another less popularly supported device to play. The instant site opens right in a web browser, and it makes use to HTML5, making it compatible with nearly every mobile tablet and smartphone available today, including Sony products.
SportsBet Mobile Screenshots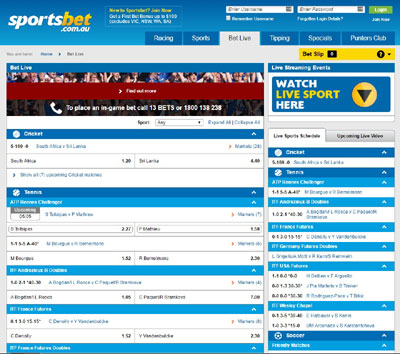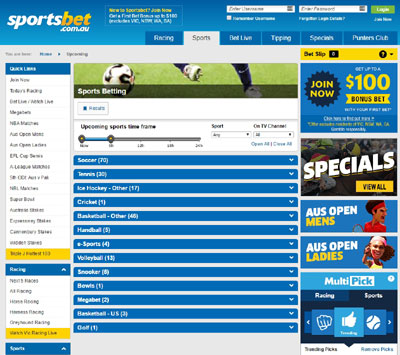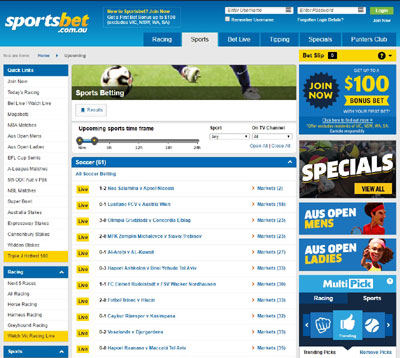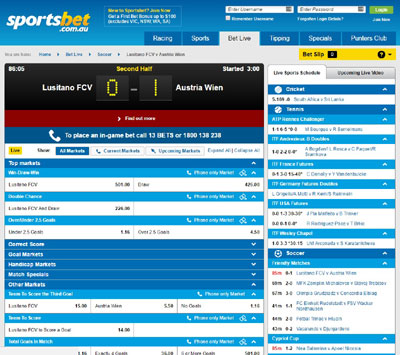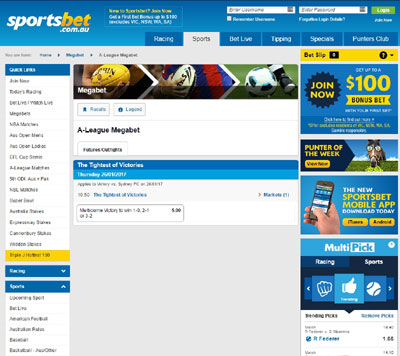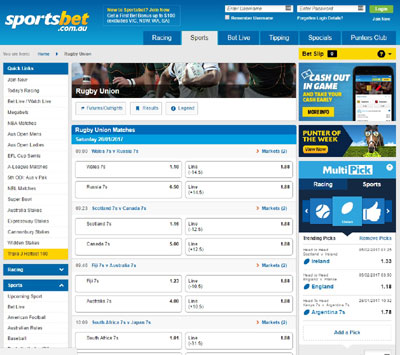 Download the Mobile App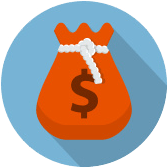 While putting together our Sportsbet online assessment, it was pretty obvious that the website makes it easy to make deposits because it supports a variety of currencies. All of the following are supported.
NZD
AUD
USD
EUR
GBP
HKD
SGD
Customer Support and Supported Languages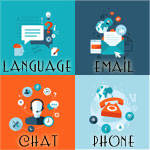 One highlight of my Sportsbet review is the excellent customer support that the company provides. There are three dedicated phone lines, one for racing betting, another for sports betting and a final number for customer service issues. This Australian site also offers live chat for instant help, and a connected email address for answers that are less urgent overall.
Supported Languages
On top of the standard English, Sportsbet also supports a range of other languages for non-native speaking players. This makes it accessible and ready to use for a range of players. Here's an overview of the different languages that are supported by Sportsbet.
German
French
Spanish
Arabic
Greek
Italian
Chinese
Vietnamese
Sportsbet is a good solid sports betting tool that allows you to place wagers on the vast majority of sports as an Australian player. All the sports at this bookies site come with odds and simple tips to help you figure out what wager you want to make, and to help with making the best possible decision overall. New players can read through all the options, become familiar with the layout of the site and then make a wager that they are confident in. That's how useful and well laid-out the site really is.
The site accepts most common currencies and has a variety of deposit options, making it easy for new players to get started fast. You can pick the option that you like the best and add real money into your account in just minutes. There is also a simple interface and powerful tools like live game betting, to make betting on games as enjoyable as possible for new or more experienced gamblers from around the world. There's also a generous bonus bet that's offered to new players, which helps make it worth a try, even for players that are established at other betting sites. Test out some of the options for yourself, and you'll soon see that Sportsbet is the place for you.
Reviewed by: OnlineCasino.com.au™
Play at SportsBet Casino with your $250 Bonus Now!