Offline Casino Guide for the City of Las Vegas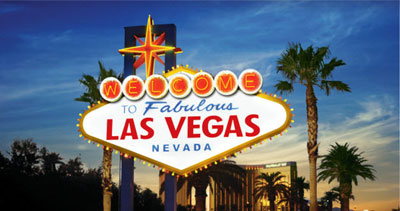 Many people think of Las Vegas, which is often referred to as "Sin City," as the gambling Mecca of the world. The Vegas Strip, with its bright, gaudy lights and towering hotel/casinos, pressing crowds of tourists and locals, and colorful characters and slick con artists, is an icon of American culture, enterprise, and entertainment. Vegas has become a city known for having something for everyone, including couples, singles, and families.
Whatever your flavor of gambling, sports, exotics, slots, table games, bingo, poker, horses, dogs, or anything else, you'll find it in Vegas. They may not have created the proposition bet, but it's hard to find a place that has more of these wagers than Las Vegas. If you are a gambler and in the United States then you have to go to the Strip. At the same time, if you're interested in world-class entertainment, staying at a premium resort, or enjoying a wide range of leisurely activities, then this city of over one-half million people has a lot to offer.
Pros and Cons of Las Vegas
Great gambling rooms
Amazing entertainment
Sports bettor's paradise
Easy to get to
Con games galore
VIP passes too good to be true
Big crowds
Very hot, dehydration problematic
Overview: Land-Based Casino Experience

This is a city that thrives on tourism and gambling. The casino experience is rich and diverse. Not only are there a lot of choices for those who love to gamble, but there are also a lot of first-class, premium establishments from which to choose.
The Vegas Strip is a mere 4.2 miles long and yet it has one of the largest collections of world-class hotels in the world. You'll find 19 of the world's 25 largest hotels located on the Strip with over 67,000 hotel rooms and suites. Of the almost 80 casinos in Vegas, close to 30 are located on the Strip. The area is filled with people seeking the highlife. It boasts some of the most exciting casinos, immensely active sportsbooks, and most prestigious poker rooms.
The Vegas casino experience includes lots of extras for high rollers and even for those who are fairly modest rollers. Drink, food, and hotel room comps are common, and many people also qualify for casino credit. Casino credit allows you to play with a specific casino's cash. Of course, you'll need to be able to qualify for this privilege, as you are expected to payback any losses.
♠ When it comes to gambling the question isn't what does Las Vegas have, it's what doesn't it have? All forms of gambling are legal in this city except for the lottery. Nevada is one of the few states in the US that does not have a lottery. The state gaming revenue is about $9 billion per year. Approximately 37 million people visit per year and of that number about 32 million, or 87%, end up gambling. The average visitor gambles about 3.9 hours per day, spending $559.00.
🎰 Las Vegas is considered to be the capital of the gaming world when it comes to slot machines. There are close to 200,000 licensed slot machines in Las Vegas. Of course, casinos offer all forms of gambling, including roulette, baccarat, craps, video poker, Pai Gow Poker, blackjack, keno and much more.
🍴 But Las Vegas is known for much more than casinos and gambling. It is renowned for five star hotels, first-class entertainment, world-class chefs, and offering visitors unique, memorable experiences. Las Vegas is a tourist's dream.
Make sure you're fully prepared before you head off to Las Vegas by checking out our casino game guides or practising at one of these top rated live dealer online casinos.
Top 10 Casinos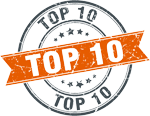 There are more than six-dozen casinos in Las Vegas, which makes choosing the top 10 especially difficult. We offer 10 casinos that we have found to be first-class gaming establishments and more. Along with premium gambling facilities, these casinos offer various additional features, such as lavish rooms, premium amenities, and wonderful, interesting activities.
Aria Resort And Casino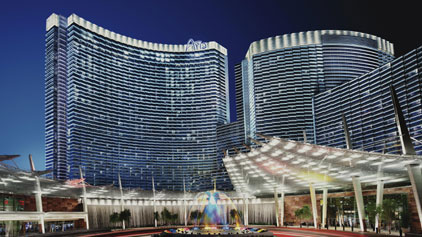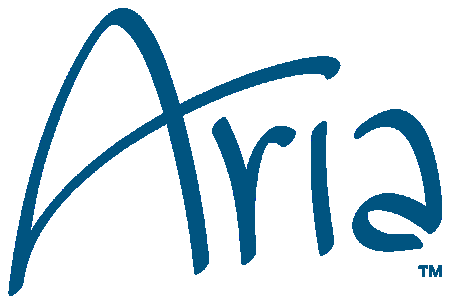 3730 Las Vegas Blvd
Las Vegas, NV 89158

(866) 359- 7111
Basics:
Opened: December 16, 2009
Owner: MGM Resorts International and Infinity World Development
Pros

Extraordinary number of gaming tables and slots
Rooms feature touchscreen controls
M Life rewards program
Cons

Limited poker tournaments
Huge facility may overwhelm some
The Aria is a premium casino and resort that offers visitors more than 150,000 square feet of gambling space. There is plenty of action, as the casino has 145 table games and close to 2,000 slot machines. Play favorite tables games such as blackjack, roulette, baccarat and craps.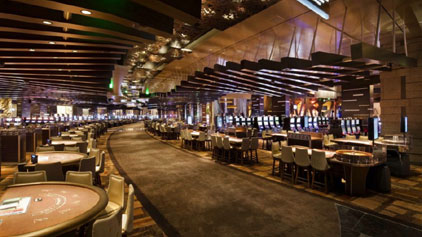 Plus, at Aria you can enjoy various other unique games. These include Free Bet Blackjack, which allows you to double-down and split for free; Crazy 4 Poker, where you make the best four-card hand from the five cards you're dealt; and Ultimate Texas Hold'em, where you play heads up against the dealer and may make an additional bonus bet. Also ready and waiting for you are Let it Ride, Pai Gow Poker, and Casino War. For those who want to play for big stakes, there is Aria's High Limit Lounge.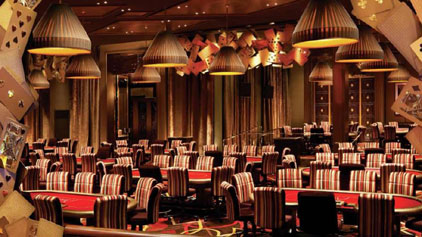 Aria slot machines range from micro stakes games that can be played for a penny a spin, to high roller slots that you can enjoy for up to $5,000 a spin. Play classic slots that can be enjoyed for one coin per spin or multi-payline machines that accept up to 500 coins. At Aria, you can play everything from traditional reel machines to the latest video slots.
The 24-table poker room is beautifully appointed. Play Limit Hold'em, No Limit Hold'em, Pot Limit Omaha, Omaha 8 or Better, Seven Card Stud, Draw, and Mixed Games. Stakes start at $1-$3 and go up to $40- $80. If you're a high stakes cash player, you'll want to check out the Ivey Room.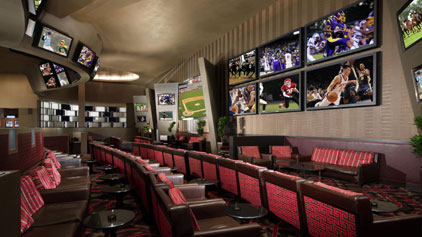 The race and sports book lounge is big and comfortable. There are plenty of HDTVs and the action is continuous in what many consider to be the best sportsbook in Las Vegas. Bet on all types of sporting events, making everything from standard point spread, over/under, and moneyline wagers to props and exotics, including parlays.
Technologically advanced and nicely appointed hotel rooms, a wide range of restaurants, exciting nightclubs, and great shows also await you. The Aria is one of the best that Las Vegas has to offer.
Bellagio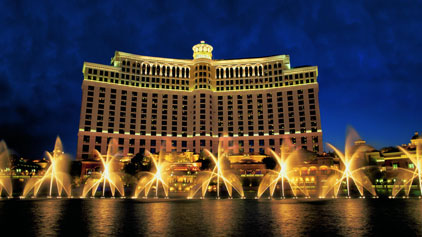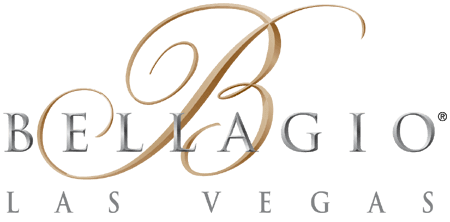 3600 Las Vegas Boulevard S.
Las Vegas, Nevada 89109

(888) 987-6667
Basics
Opened: October 15, 1998
Owner: Bellagio LLC (subsidiary of MGM Resorts International)
Pros

Premium casino experience
Received AAA Five Diamond Award 15 years running
Magnificent fountains, man-made lake, botanical gardens & more
Cons

Additional resort fees
Long lines and big crowds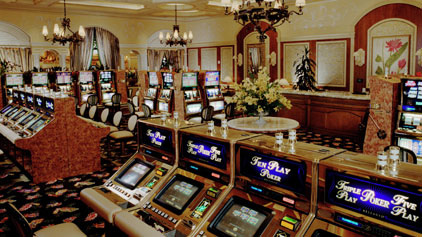 The Bellagio is a magnificent experience in every way. The casino is first-class, as are the accommodations, restaurants, entertainment, and nightclubs. But there's more, including the famous Bellagio Fountains, eight-acre man-made lake, Conservatory and Botanical Garden, and world-class art museum. This casino/hotel/resort is inspired by Bellagio resort on Lake Como in Italy, and manages to weave that inspiration into something unique and majestic.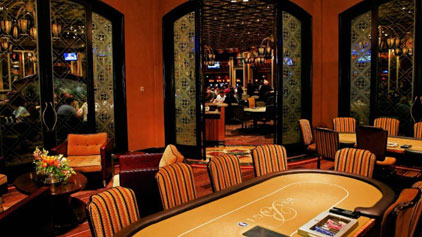 Amidst all of the grandeur, you might think the casino experience at the Bellagio would be lost. But it is not. There's plenty of baccarat, blackjack, craps, and roulette, as well as Pai Gow Poker, Three card Poker, Let It Ride, and Pai Gow. Slots and video poker machines are huge at the Bellagio, as there are over 2,300 games, including progressives, the newest video slots, and traditional reel slots. Throughout the year, the Bellagio features some of the biggest slot tournaments you'll find anywhere. Popular slot machines include Sons of Anarchy, which offers players Cluster Power™, an innovative engine that enables winning combinations that provide major payouts, and Monopoly, a big bonus game with enhanced multipliers.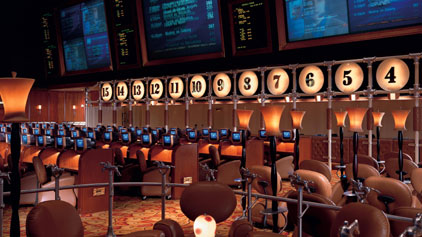 The poker room is spacious and comfortable. Games include Texas Hold'em limit and no limit, Pot Limit Omaha, 7 Card Stud, and Mixed Games. Blinds start at $1-$3 and go up to $80-$160 and higher. Cash and tournaments are played daily and Bobby's Room offers high stakes players an exclusive place to play.
Add to all of the above, Bellagio's high-tech sports and race book; the finest entertainers such as Michael Bublé, Motley Crue, and Maroon Five; and magnificently appointed rooms, and you've got a premium casino experience.
The Cosmopolitan of Las Vegas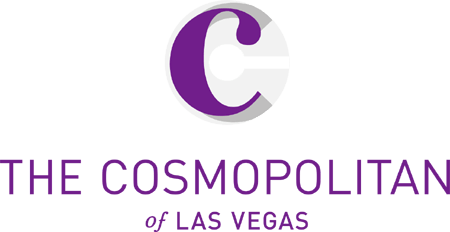 3708 Las Vegas Boulevard South
Las Vegas, NV 89109

(877) 551-7778
Basics:
Opened: December 15, 2010
Owner: The Blackstone Group
Pros

Amazing views
Innovative slots and video poker
Action galore
Cons

Fee for fitness center
No poker room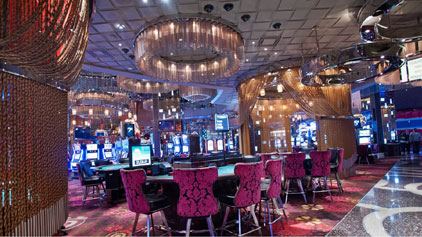 The Cosmopolitan's floor-to-ceiling glass walls offer those who enter through its doors a stunning view of the Vegas Strip and all of the activity that it hosts. The Cosmopolitan, a relatively new addition to the Strip, includes more than 100,000 square feet of casino space with 83 gaming tables and approximately 1,500 slot and video poker machines.
Standard table games, including blackjack, baccarat, roulette, and craps, are always active, as well as favorites such as Casino War, Three Card Poker, and Let It Ride. High payout, bonus bet games include Fortune Pai Gow Poker and Ultimate Texas Hold'em.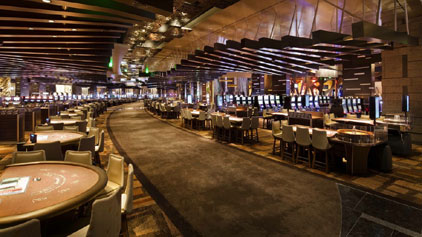 Slots and video poker are huge at the Cosmopolitan. You can play for as little a penny a spin and as much as $500. There's a special high roller room for those who bet big and live large. But you don't have to be a high roller to enjoy the multi-game slot Hot Hot 8, the bonus, progressive The Big Bang Theory, or the 10 ½ foot tall, LCD slot Britney Spears. Innovative video poker games include multi-hand, dice rolling offering known as Hot Roll, and All-Star Poker II, which features eight different poker games.
The Cosmopolitan sports and race book provides patrons with 42 individual wagering stations, includes numerous premium video screens, and offers action from around the world. Powered by CG Technology™, this book, which has a contemporary feel, is sleek, efficient, and fun.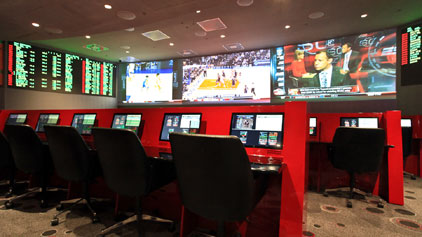 The Cosmopolitan has over a dozen restaurants and a half-dozen bars and clubs on-site, giving patrons a lot of quality choices. Performers include Willie Nelson, Bruno Mars, and Bryan Adams Get Up! Tour. Plus, there's a spa, salon, and plenty of shopping.
Premium service, a beautiful facility, and lots of gaming action and entertainment make the Cosmopolitan one of the hottest casinos on the Vegas Strip.
The Luxor Hotel & Casino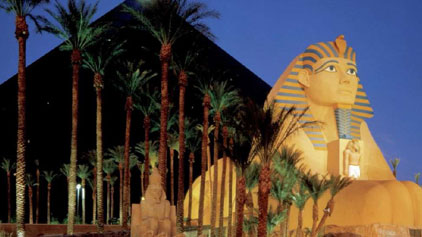 3900 Las Vegas Blvd South.
Las Vegas, Nevada 89119

(877) 386-4658
Basics:
Opened: October 15, 1993
Owner: MGM Resorts International
Pros

Progressive table games
Special poker giveaways and comps
Wide range of hotel accommodations
Cons

Limited sportsbook hours
Pyramid rooms in need of renovation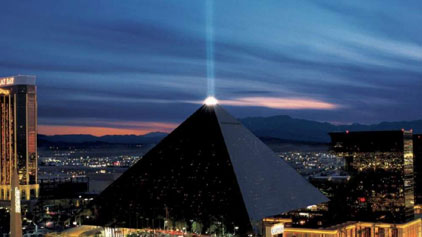 The Luxor Hotel and Casino is captivating to say the least. The unique black pyramid that shines a transcendent beam of light towards and into the heavens makes the Luxor immediately recognizable and forever remembered. This is a palace of luxury, with over 4,000 refined rooms located in the Towers and Pyramid, over a dozen signature attractions, and a wide range of shows that include Blue Man Group, Carrot Top, and the adult-themed Fantasy. Plus, the Luxor offers a special LGBT deal.
The 120,000 square foot casino includes over 60 table games and more than 1,100 slot and video poker machines. Play roulette, craps, blackjack, mini baccarat, Let It Ride, and 3 Card Poker. For those interested in games offering players an extra edge or bonus bet, try Free Bet Black Jack, Progressive Ultimate Texas Hold'em, or Texas Hold'em Bonus Progressive. By the way, if you want gaming lessons, the Luxor offers those for free.
Slots are plentiful and include progressive, bonus, jackpot, video, and reel slots. You can also enjoy a range of video poker games, keno slots, and various electronic table games. Yearly slot jackpots total $16 million. Play for as little as a penny a spin or up to $100 per turn.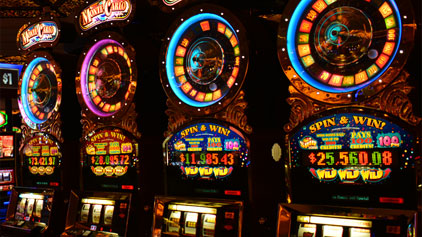 The poker room, which like the casino offers free lessons, includes cash games at various levels and daily tournaments. You can earn food comps, get paid for high hands that are four of a kind or better, and win free cash in their Graveyard Giveaway with three morning drawings at 6, 7, and 8 am. The race and sports book offer action from around the world.
The Luxor, which takes its name from the ancient Egyptian city, is a premium casino, hotel, and resort. Along with fine gaming, it provides patrons with a lot of nightclub activity and show-stopping entertainment. The newly launched LAX nightclub features the latest in interactive entertainment and has become a popular Vegas experience.
M Resort Spa Casino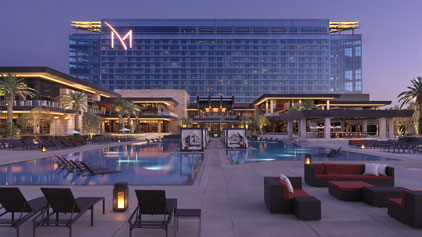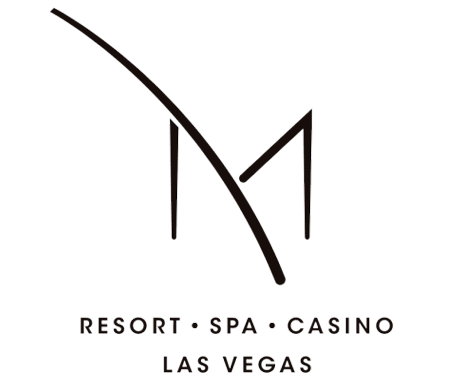 12300 Las Vegas Blvd S
Henderson NV 89044

(702) 797-1000
Basics:
Opened: March 1, 2009
Owned: Penn National Gaming
Pros

Latest slots and video poker
Marquee Rewards offer great value
Highly personalized service
Cons

Off the beaten path
No poker room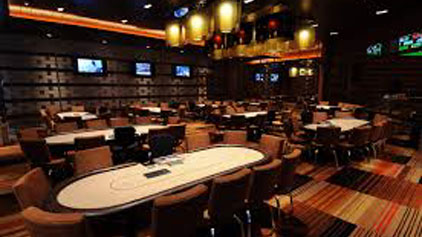 The M Resort Spa Casino, which is located a bit south of the Las Vegas Strip and within the metropolitan region of the city, is smaller than many other casinos, and, yet, eminently unique, With just over 300 rooms, The M Resort ably focuses on offering each guest individualized attention. Rooms are upscale, spacious, and fully equipped; there are complimentary food, wine, and beer offerings; and no resort fees.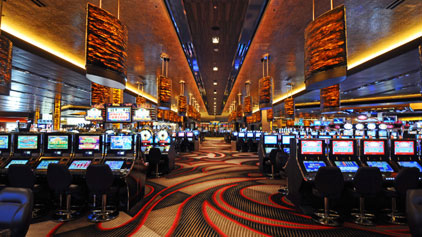 The 92,000 square feet of gaming space includes over 40 table games and 1,800 slots and video poker machines. There's plenty of room for players to enjoy their favorite table games, such as craps, roulette, blackjack, Pai Gow Poker, Mini-Baccarat, 3-Card Poker and High Card Flush. Play slots, including video and reel games, for as little as a penny and as much as $100 per spin. Video poker games offer progressive jackpots, and gamblers can also enjoy video keno.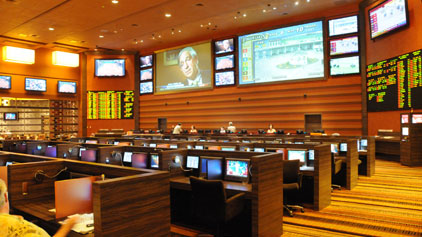 If sports or horse racing is your thing, then you'll find what you want at The M Resort's Race and Sports Book. VIP features, including special seating, are offered, or you can take a seat in the book's bettor's lounge. There are plenty of big screens to watch all of the action on as well as numerous individual betting terminals. This unique sportsbook features in-play wagering, allowing you to bet on live events. Plus, this book offers gamblers a wide range of props.
If you're looking for a smaller venue, off the Strip, yet fairly convenient, then The M Resort is a good choice. There's lots of action and value at this resort, and it's easy to connect with other aspects of the Vegas experience.
Mandalay Bay Resort & Casino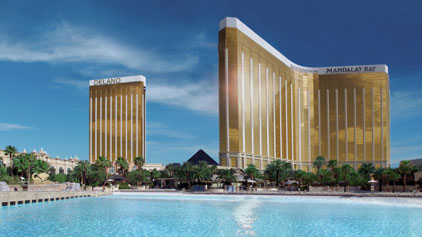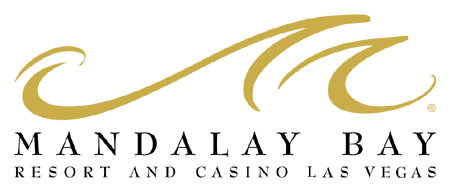 3950 Las Vegas Blvd. S.
Las Vegas, Nevada 89119

(877) 632-7800
Basics:
Opened: March 2, 1999
Owner: MGM Resorts International
Pros

Accommodating service personnel
Great for families
Mandalay Bay Beach
Cons

Slow check-in
Table games focus on high rollers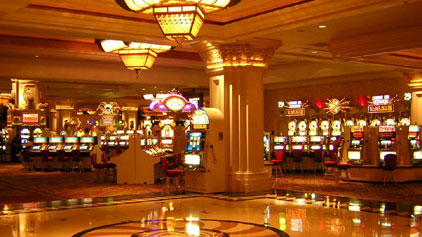 Mandalay Bay Resort and Casino offers the full package, casino, restaurants, first-class shows, nightlife, wonderful accommodations, and beach. That's right, beach. Mandalay Bay is a South Seas beach resort in the middle of the Nevada dessert. There's tons of sand, a 1.6 million gallon wave pool, and one hundred nicely outfitted cabanas.
The casino experience includes the four top table games, roulette, blackjack, craps, and baccarat. Slots and video poker machines are plentiful. Play for as little as a penny and up to $100 per spin. Many of the slots and video poker games range from five to 25 cents. You'll discover video slots, progressive and bonus machines, and traditional reel slots, as well as slots tournaments with big payouts.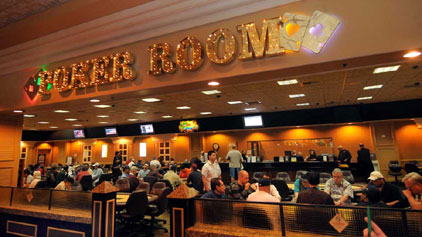 In the poker room, low entry fee tournaments are available on a daily basis, while cash tables tend to be on the high end with blinds ranging from $50 to $500. Although, some cash games staring at $5-$10 are available. The Mandalay Sports Books includes 17 large, premium video screens, a VIP betting area, and scores of individual wagering stations.
Mandalay Bay is a unique and attractive resort and casino. Its various performance venues offer a range of shows, including Garth Brooks, Maroon 5, and Michael Jackson One. Plus, you won't want to miss the Shark Reef Aquarium, featuring over 2,000 sea creatures. Mandalay Bay offers a wonderful experience on every level.
MGM Grand Hotel & Casino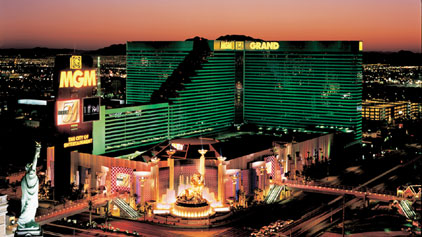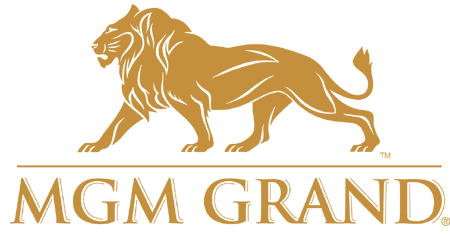 3799 S Las Vegas Blvd
Las Vegas, NV 89109

(877) 880-0880
Basics:
Opened: December 18, 1993
Owner: MGM Resorts International
Pros

Big, world-class casino/hotel
Lots of gaming action
Fantastic entertainment
Cons

Aging hotel, thin walls
Service can be slow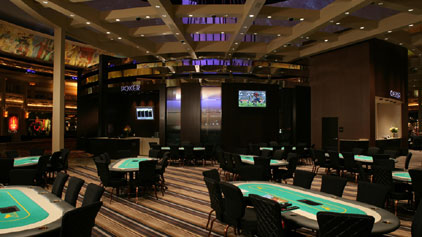 If you're looking for a classic, big casino/hotel on the Vegas Strip, then the MGM Grand certainly fits the bill. The MGM Grand offers players 170,000 square feet of gaming space that includes table games and over 2,700 slot and video poker machines.
Table games include the basics, craps, blackjack, baccarat, and roulette. Plus, you can play Casino War, Three Card Poker, Pai Gow Poker, and Let It Ride. Three unique games offered are Pai Gow Tiles, similar to the Chinese domino game; Crazy 4 Poker, where you play the best four of the five cards you're dealt; and Texas Hold'em Bonus, offering an extra, exciting side bet.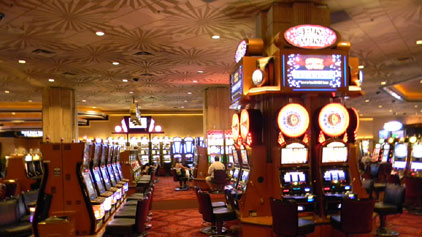 Play slots for as little as one-cent a spin and as much as $1,000 a turn. Progressives, high limit slots, and tournaments are offered. Some player favorites include the new Ellen Degeneres slot, the big bonus slot Friends, and the exciting multi-progressive Gong Xi Fa Cai.
You can enjoy cash poker just about anytime you'd like in the MGM Grand's 23-table, smoke-free poker room. There's solid action here. Texas Hold'em is the featured game with no limit tables starting at $1-$2 and going up to $4-$8. Also, each day the MGM Grand poker room offers from two to four tournaments.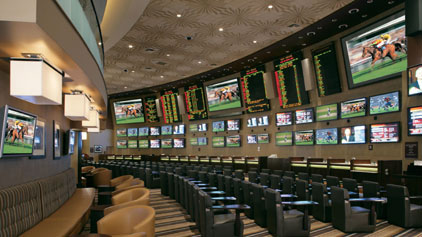 The MGM sports and race book is one of the best in Vegas. The room features four first-class skyboxes, a full outfitted betting lounge with over 100 seats, thirty-six 65-inch LCDs, and twenty-four 42-inch plasma televisions. Sit back and bet on just about any sport you can think of while enjoying 50 channels of racing and sporting events.
Add to all of this, MGM Grand's list of fine restaurants; happening nightclubs, lounges, and discos; and great entertainment, including singer Michael Bublé, magician David Copperfield, and the epic tale of KÀ as performed by the renowned Cirque Du Soleil, and you've got the total Las Vegas Strip experience.
Red Rock Casino, Resort and Spa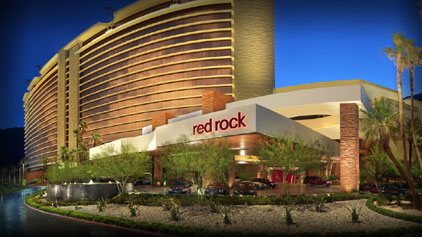 11011 W Charleston Blvd
Las Vegas, NV 89135-1402

(866) 767-7773
Basics:
Opened: April 18, 2006
Owner: Station Casinos
Pros

Fantastic customer service
Premium resort and spa
Beautiful setting at the foot of Red Rock Mountains
Cons

Far off the Vegas Strip
Hotel check-in can be slow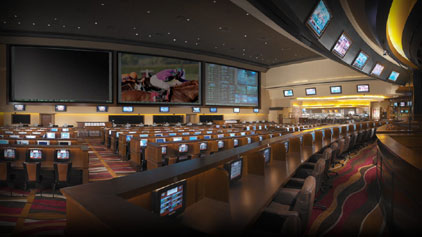 Red Rock Casino is noted for being unique and offering quality. Along with a huge number of gambling possibilities, including table games, slot and video poker machines, bingo, and a race and sports book, Red Rock includes a 16-screen, state-of-the-art movie theatre, numerous restaurants and nightclubs, and a premium spa and fitness center.
At Red Rock, players can choose from 60 table games and 3,000 slot and video poker machines. Play basic games, including blackjack, baccarat, roulette, and craps. Also, enjoy table games with a unique twist, including Pai Gow Poker with no commission and a progressive jackpot; Bonus Craps, offering three new ways to win; and Fire Bet Craps, providing a 1000:1 payout on a maximum bet of $5.00.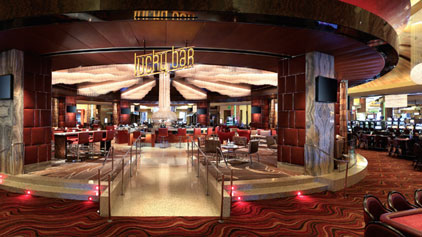 The slots are always spinning at Red Rock, which is constantly adding the latest and most unique machines. Games include 3D slots such as Sphinx and Dragon's Temple with some of the most popular machines around being Rapid Revolvers, Willy Wonka, Gremlins, Dragons over Nanjing, Megabucks and Wheel of Fortune. Progressives, penny, and high stakes slots are offered. Latest additions include Aristocrat, Buffalo Gold, Buffalo Behemoth, and Helix Games.
There's also a 600-seat bingo parlor, a 20-seat keno lounge, and a 24/7, 20-table poker room. If you want to place a few bets on the horses or a game, the Red Rock race and sports book offers all the opportunity you want. The 200-seat betting lounge features a 96-foot video wall.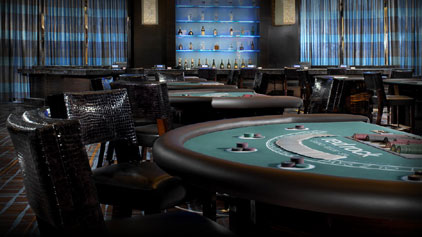 There are plenty of restaurants and lounges, lots of great entertainment, and a wealth of things to do at Red Rock. Go bowling, horseback riding, rafting, or hiking. Relax at their spa or take some time to get your fitness workout in. The setting is gorgeous, the rooms outstanding, and the entire experience is first-class. Plus, their rewards program, offered through MyBoardingPass, provides members with great value.
The Venetian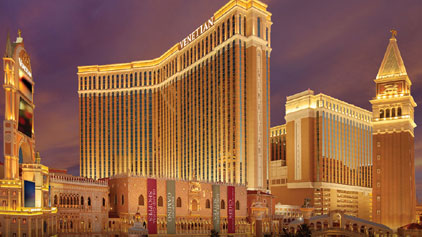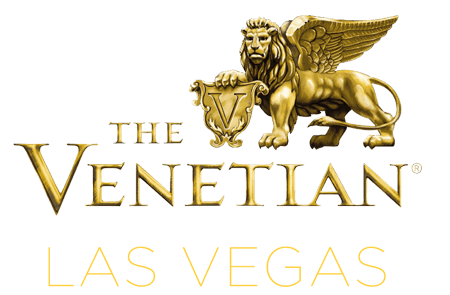 3355 Las Vegas Blvd. South
Las Vegas, NV 89109

(866) 659-9643
Basics:
Opened: May 3, 1999
Owner: Las Vegas Sands Corporation
Pros

First-class customer service
Grand Canal Shoppes, ultimate upscale mall
Gorgeous facility from top to bottom
Cons

Can be pricey
Very busy and loud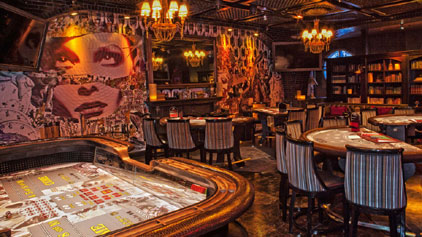 The Venetian is noted for being one of the best of the very best. Customer service, cleanliness, and each aspect of this amazing facility make it a hallmark of the ultimate Las Vegas experience. The breathtaking décor and design define the beauty, grace, and romance of Venice, Italy. The Venetian gaming areas are uniquely designed, offering players environments that are interesting, pleasant, and comfortable.
The Venetian, which has a sister site, the Palazzo, provides gamblers with a lot of gaming experiences. Players can enjoy action at over 230 table games and take spins on more than 2,000 slots. Standard table games expertly run, including baccarat, roulette, craps, and blackjack, are offered.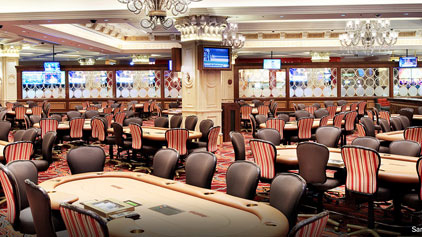 Plus, there are other, more exotic games, such as Lucky 6 Baccarat, which pays big when you bet on the banker winning with 6 on two or three cards. In addition, they offer Fortune Asian Poker Progressive, which includes a $1 progressive bet and a $1 to $100 bonus wager, and King's Bounty Blackjack, with a side bet that pays when your first two cards total twenty. The game also offers a 1000:1 payout if you're dealt two King of spades and the dealer has a blackjack. Many other table games, including Sic Bo and Pai Gow Poker, are available.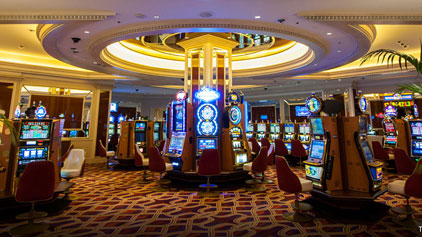 Slots are plentiful. Enjoy high roller machines, special tournaments, and luxury slot machine boxes where real prizes are awarded when you hit a winning combination. Some of the Venetian's newest slots include the bonus machine The Hangover, the $500,000-plus jackpot slot The Walking Dead, and the big payout, penny slot Tokidoki.
A fairly new feature, the Sands Poker Room, is a comfortable, smoke-free, relaxed setting where players can enjoy tournament poker and cash games. With close to 60 tables and 14,000 square feet of space, there are plenty of seats available for the Venetian's popular series of high payout, DeepStack Extravaganza tournaments.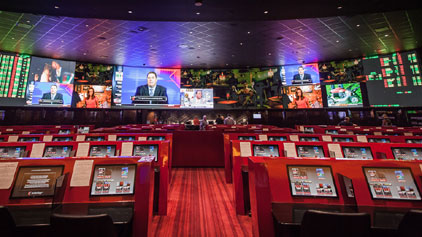 The 24-hour race and sports book at the Venetian includes a state-of-the-art 10 x 100-foot video screen, which offers up to 42 different events at once. There are close to 120 individual betting stations in the facility, which is powered CG Technology™.
Join their players' awards club, Grazie, to get most out of your Venetian experience. Premium guests have access to high level gaming experiences on the 50th floor of The Palazzo and 36th floor of the Venetian. These select gaming areas offer exclusive benefits.
The Venetian is truly unique as is evidenced from one of their newer features, the LAVO Casino Club. At the LAVO, you can enjoy table games such as blackjack and craps, while you imbibe expertly mixed drinks and dine on their authentic Italian menu.
The Wynn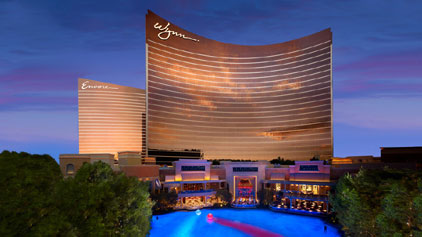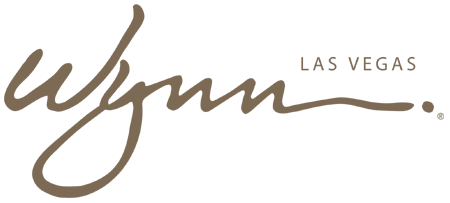 3131 Las Vegas Blvd South
Las Vegas, Nevada 89109

(888) 320-7123
Basics:
Opened: April 28, 2005
Owner: Wynn Resorts Limited
Pros

Fantastic poker room
Great resort
Unique entertainment
Cons

Service is uneven
Resort fee is high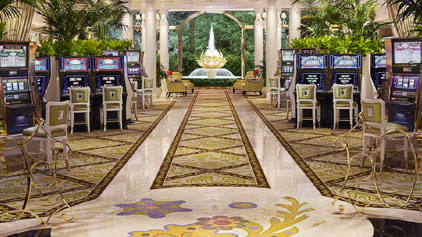 The Wynn opened in 2005 and then the company's second offering, The Encore, which is adjacent, opened in late 2008. Taken alone, each is impressive; together they represent a gaming and resort paradise. Anything you want is here. Offering two spacious casinos, that feature a wide range of table games, including numerous progressives and bonus bet games, as well as progressive slots and video poker machines, the Wynn provides any and every gambler with all of the action they desire.
Plus, the race and sports book at the Wynn is well appointed, providing patrons with an array of big screen TVs, as well as scores of individual betting stations. This is a comfortable lounge where you can place your bets and enjoy your favorite drink and sport.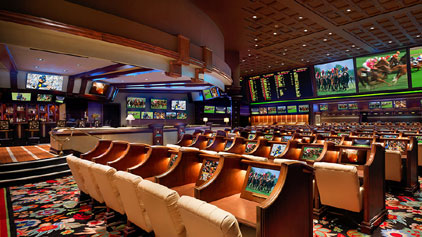 The poker room at the Wynn is one of the most active in Las Vegas. Daily, weekly, and monthly tournaments offer guaranteed prize pools, and there's plenty of $1-$3 and $2-$5 No Limit Hold'em cash games. Tournaments include $10,000 guaranteed prize pool offerings every Friday and Sunday, a $25,000 event every Saturday, and a Pot Limit Omaha tourney every Thursday. There are also various special, big-prize tournaments throughout the year. Join the Wynn Insider program to get special rates, benefits, and comps.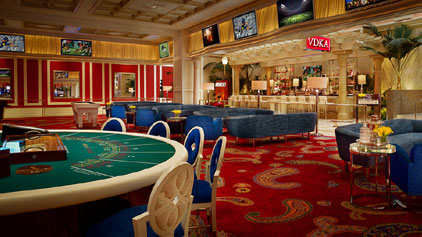 The Wynn Resort Las Vegas has won Five Star Awards from Forbes and Five Diamonds Awards from AAA. The accommodations are some of the best in Vegas, offering upscale furnishings, numerous high-end amenities, and great views. The nightclubs and entertainment venues are stunning and the restaurants superior. Entertainment is lavish and includes the award winning Steve Wynn's ShowStoppers, the magnificent acrobatic spectacle Le Rêve – The Dream, and the stunning holograph and puppetry show Lake of Dreams.
The Wynn Resort and the Encore are more than two casinos. They are a total and complete vacation and entertainment package and are well worth considering.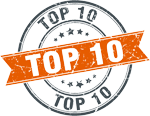 Top 10 Attractions and Things to Do
There's a lot to do in Las Vegas besides gamble. Below are 10 attractions and experiences that the area has to offer. If you're going to spend a lot of time taking in various sites and enjoying different experiences, you may want to consider purchasing the Las Vegas Power Pass, which gets you free admission into over 30 of the area's most popular attractions including Bellagio Gallery of Fine Art, Stratosphere Tower Observation Deck, Madame Tussauds, and Grand Canyon West Legacy.
The Adventuredome at Circus Circus

– This is the biggest indoor theme park in America. Enjoy 25 rides and attractions. Purchase ride tickets individually or buy an all-day pass.

BODIES... the Exhibition at Luxor

– Real human bodies that have been dissected and preserved are presented in a tasteful manner. A real science and life lesson as you see the beauty and complexity of the human body. Admission charged.

Conservatory & Botanical Gardens at Bellagio

– The Bellagio offers stunning gardens and displays in a 14,000-square-foot setting. Free.

Flamingo Garden, 3555 Las Vegas Blvd S

– This 15-acre garden features flamingos, swans, ducks, and other fowl, as well as fish and turtles. Free.

Fountain Show at Bellagio

– The renowned Fountains at Bellagio offer an event that features water set to music and emblazoned by lights. Shows occur at various times in the evenings and all weekend. Free.

Gallery of Fine Art at Bellagio

– A fine-art gallery featuring world class artists and shows. Admission charged.

Madame Tussauds Wax Museum, 377 S Las Vegas Blvd

– The world famous Madame Tussauds Wax Museum Las Vegas presents over 100 of the biggest celebrities, legends, athletes, and politicians. See the wax likes of Justin Timberlake, Britney Spears, Shaquille O'Neal, Tiger Woods and more. Admission charged.

Shark Reef Aquarium at Mandalay Bay

– See sharks, sea turtles, swordfish, and more as you walk through transparent tunnel located under the aquarium. Admission charged.

Titanic: The Artifact Exhibition at Luxor, 3900 S Las Vegas Blvd

– An amazing display of items from the doomed ocean vessel Titanic, such as the ship's whistle, an unopened bottle of champagne from 1900, and a part of the ship's hull. This is a huge 25,000-square-foot exhibit. Admission charged

U.S. Route 95 Drive by Night

– Take this route out of Las Vegas, heading northwest and climbing until you can see the neon of the city glowing like a great cloud.
Getting There
Those in California will often take I-15, about a four-hour, 280-mile trek, to Las Vegas for the weekend. There's also Amtrak and bus service from California and the Southwest.
However, most people who go to Vegas fly there, landing at McCarran International Airport (IATA: LAS). This is the 24th busiest airport in the world as far as passenger traffic is concerned and the 8th busiest when it comes to actual flights. Two other airports, Henderson Executive Airport (ICAO: KHND) and North Las Vegas Airport (ICAO: KVGT) offer limited service.
Once at the airport, most visitors utilize airport shuttles, bus services, and car rentals to get into the city. In Vegas, people walk the Strip, take the monorail, use taxis, or drive rental cars. City bus service is also available.
Cost
Besides the cost of getting there, which will vary a lot depending on how you travel, how far away you are, and when you go, you can expect to spend anywhere from $150.00 (example M Resort) to $500.00 (example Bellagio) for a room for two per night. Rates depend on a lot of factors, including how nice the hotel is, where it's located, and how upscale your room is. Two people can get a good rate at a fine hotel for as little as $170 each night.
Expect to spend from $100 to $150 per day on food and drink. Then there's cash for shows, attractions, and transportation. Of course, we have not budgeted gambling yet. Without counting the cash you're going to risk on gambling, set aside about $160 per person per day when you visit Vegas. That should get you food, drink, lodging, and some entertainment.
Environment
Las Vegas is a city of over 500,000 with the famous Strip being heavily congested with pedestrian as well as vehicle traffic. The weather is quite warm in the summer with temperatures ranging from 80 to over 100. In the winter, lows can dip into the high 30s at night with daytime highs being about 60. Spring and fall temperatures are between 50-60 at night and 70-80 in the day. The climate is dry and visitors often need to guard against dehydration.
Be mindful that Las Vegas has laws against prostitution, drinking alcohol and driving, sitting in a car and drinking alcohol, and any unwarranted solicitation. Pedestrians may drink alcohol in an open container if they are on the Strip. Visitors should always be wary of their surroundings, as Vegas, due to the fact that it attracts gamblers and those people who may prey on them, has a high crime rate. The violent crime rate in the city stands at 647.0 per 100,000.
Super Bowl week and March Madness are huge in Vegas and a lot of fun. The best times to go to Las Vegas are from March through May and from September through November. The weather is good and you can often find great deals.
History of Gaming in the Region
Las Vegas, which translated from the Spanish means "the meadows," was founded in 1905. It was a tiny settlement, which was transformed into the gambling capital of the world due to a few key events.
The construction of the Hover Dam started in 1931 in Boulder City, which was actually created by the US government to house, feed, and clothed those men who were building the dam. The federal government did not allow gambling in their company town.
Thus, those men working on the dam often travelled to Las Vegas for their entertainment, which included using their wages at the gaming tables, in the slot machines, and at the poker table. Reno also had gambling parlors, but Las Vegas become much more popular. At the same time, California saw an influx of people in the 1930s and into the 40s and 50s, as the film industry became entrenched in Hollywood. Gambling was illegal in California, which meant that Las Vegas became a destination of choice for those wanting to place some bets.
In the 1940s two resorts were established in Las Vegas. The first was the lavish El Rancho Vegas, which opened in 1941, quietly establishing The Strip. In 1946, Benjamin "Bugsy" Siegel opened the Flamingo Hotel. As the two establishments became popular, there was more and more development on The Strip, as bigger and more impressive hotels, casinos, and resorts were created.
Although for a long time Las Vegas was associated with organized crime that began to change in the late 80s and early 90s. One reason for the change had to do with the establishment of the federal Racketeer Influenced and Corrupt Organizations Act (RICO Act) in 1970. Various prosecutors used RICO in the 1980s and 90s to bring down the mob. At the same time, reputable, established companies got involved in building up and transforming Las Vegas into a more family friendly and diverse entertainment venue. Since the mid-1990s, Las Vegas has undergone a major transformation with the building of numerous multi-billion dollar resorts and casinos.
For the Best Gaming Experience
As you should with any trip, plan your Las Vegas adventure ahead of time. Check out any special deals you can get, including comps and casino credit. By the way, if you do get any kind of special deal make sure you have the documentation with you when you travel to Vegas. If you don't have it, then the casino or resort may not honor it. Check rates carefully and weigh booking directly with a hotel versus going with a discount website.
Sign up for any player rewards programs that may be available and budget your money accordingly, including the maximum amount you are willing to risk and lose when gambling. Las Vegas is an exciting place to visit. With a little bit of thought and planning, you can end up having a truly memorable experience.