Offline Casino Guide for Singapore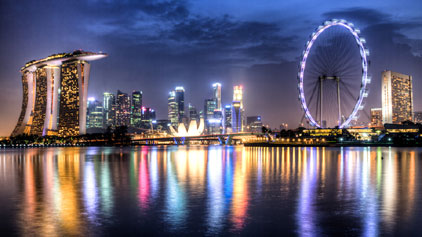 Singapore is a small city-state that is comprised of a central island named Singapore and 62 islets. The main island, which is diamond shaped, includes the busiest seaport in the world. The Island of Singapore is where the Marina Bay Sands, one of the region's two casinos, is located. This island is an extremely busy, densely populated, urban area that includes fine restaurants, five star hotels, and an active nightlife.
However, although there is plenty to do in Singapore, there is no Las Vegas or Coati Strip. Singapore's one other casino, Resort World Sentosa, is located on an island of the same name. Travelling to and staying at the Resort World Sentosa casino offers an experience that is very family friendly. Sentosa, which was once a military fort, is a major resort that offers visitors a getaway experience that includes major theme park attractions, relaxing recreational activities, and plenty of opportunities to enjoy games of chance as well as Mother Nature's beauty and wonder.
When in Singapore, you can have the best of both very different worlds. One is filled with glitzy décors, bright lights and loud music, and the sounds of people enjoying quality entertainment, exciting games of chance, and first-class meals, great drinks, and extraordinary accommodations. The other world is the one where you get away from it all. It includes plenty of opportunities to access beautiful beaches, visit natural habitat, and partake of revelatory nature hikes.
Singapore is one of the friendliest and most interesting places that you can visit. This tiny nation is a multicultural entity, with its population primarily composed of those of Chinese, Malaysian, or Indian heritage. You'll find many Western influences in Singapore as well as the type of energy that is associated with being a major economic power.
If travelling to Singapore, you should be prepared for a wondrous experience that includes the opportunity to see premium performers and artists, visit important and interesting historical sites and natural environments, and view stunning architecture, unique museum exhibits, and fine works of art. Singapore combines the natural beauty of Asia, one of the world's most robust economies, and an amazingly varied population into a small but thriving nation that measures just 246 square miles, which is about half the size of New York City.
Plus, along with all of that, if you'd like to, you can gamble 24/7 at two of the world's finest casino resorts. Singapore is a spectacular place to visit, relax, and play.
Pros and Cons of City
Fantastic casinos
Friendly and safe
Hub of excitement
Authentic cuisine
Customer service is uneven
Lack of appropriate cell phone decorum
Very crowded
Overview Land-Based Casino Experience
The casino experience at both the Marina Bay Sands and Sentosa Casino is considered to be first-class in every manner. It's interesting to note that the government of Singapore was uneasy about licensing casinos, as they felt doing so could lead to an increase in crime, problem gambling amongst the local population, and attracting unsavory characters. In order to negate any negative issues that might affect local residents and to control and curb gambling, those living in the area must a pay a $100 SP ($69.50 US) to enter a casino. The levy covers 24 hours of continuous access to the casino. They may also pay, instead, $2,000 SP ($1,389.50 US) for an entire year.
Make sure you're fully prepared before you head off to Singapore by checking out our casino game guides or practising at one of these top rated live dealer online casinos.
The Casinos
Included below are extensive reviews of the Marina Bay Sands and the Resort World Sentosa, including a consideration of their casinos, hotels, special attractions and amenities, and more. Both are large, world-class integrated resorts that have no lack of activities for guests to experience.
Marina Bay Sands
10 Bayfront Avenue
Marina Bay, Singapore 018956

+65 6688 8868
Basics:
Opened: June 23, 2010
Owner: Las Vegas Sands Corp.
Pros

Over 20 different table games
Lots of amenities and things to do
Hotels offer spectacular views of the region
Cons

No poker room
Oversized and pricy
The Marina Bay Sands is brimming in just about every way. This is an elegant, well-appointed, and very busy casino resort. The three-towered hotel rises up along Singapore's busy waterfront. Included are lover 2,500 luxury rooms and suites, a spectacular Skypark where you can enjoy amazing views of Singapore, the surrounding waters, and vistas while you swim or dine; and various entertainment venues, top restaurants, and premium shops. The Marina Bay Sands is first-class in every way.
Situated amongst the hub of activity, it's easy for visitors to access the various attractions and sites of Singapore. At the same time, this property is so massive, you can simply get lost amongst the splendor of the Marina Bay Sands. In a country where gambling is strictly controlled, they offer a wonderful casino where all gamblers can let go and follow their gaming bliss.
Casino
The casino, which offers four levels of gaming, is decorated in rich gold and red tones. The entire main gaming area is graced by the sun's natural warmth and night sky's gentle light through its atrium roof. There are 15,000 square meters of gaming space, which is less than 3% of the entire integrated resort's floor space. Level one of the casino is non-smoking, while private gaming rooms do allow for smokers. Free soft drinks are available to all players. The casino, which is open 24/7, can accommodate up to 15,000 visitors at a time.
The gaming tables, of which there are 350, are evenly spread across the rooms. The casino provides gamblers with more than 20 different table games. There are over 2,300 electronic gaming machines with 250-plus popular slot titles featured. If you're a high roller or Piaza member, you'll have access to over 35 private gaming rooms located on the top two gaming floors. Piaza membership is by invitation only and is reserved for premium players. The High Limit, Ruby, and Paiza areas offer more than 200 tables.
Games include all of the most popular offerings, including baccarat, blackjack, roulette, and craps. You'll find variations on baccarat, including No Commission Baccarat, 7 Up Baccarat, and Power Baccarat 98. Play European or American roulette, as well as Roulette Complete Bet and Roulette with Racetrack.
With Roulette Complete Bet, which is often played by high rollers, you automatically wager on a number in every way that it can be bet and often at the table maximum. As an example, if you're at a table with a $1,000 maximum and you wager on 18 when playing Roulette Complete Bet, you'd wager $40,000 across 12 bets. This includes straight up, split, corner, and six line wagers.
Blackjack Lucky 8, which is a game exclusively offered by the Marina Bay Sands, offers a side bet that pays off on a combination of a player's first two cards and the dealer's first card. In this six deck game the house edge on this side bet is 7.66%. Examples of payouts include 1000:1 when the two player cards and one dealer card come up as three suited eights. Three unsuited eights pays 100:1, two suited eights offers 10:1 odds, and two unsuited eights pays 5:1.
Other table games include Pontoon, Pontoon Pandemonium, Sic Bo, Fortune Pai Gow Poker, Royal Three Pictures, and Fortune Six. Also on-hand are these variations, Rapid No Commission Baccarat, Rapid Sic Bo, and Rapid Roulette. Progressive table games at the Marina Bay Sands are Megalink Three Card Poker, Megalink Texas Hold'em Bonus Progressive, and Megalink Singapore Stud Poker.
There are a huge number of electronic gaming options at the Marina Bay Sands. These include progressive jackpot games, multi-jackpot slots, and bonus slots. Plus, there are video and reel slots; multi-station baccarat, Sic-Bo, and roulette; and video poker games.
Betting minimums and maximums vary considerably. Minimum craps bets are $10 SP ($7.00 US) and minimum blackjack wagers start at $25 SP ($17.50 US). The minimum for roulette is $10.00 SP ($7.00 US). In terms of electronic gaming, you'll find many one-cent and two-cent machines. However, be aware that you'll need to shop around to locate a machine that doesn't require that you make a minimum of 100 bets per spin. They do exist. You'll discover an array of machines that you can play for 50 cents per spin or less.
This is a very busy casino where you'll find a mix of Asian, European, Australian, and North American gamblers. There is no poker room at the Marina Bay Sands and only soft drinks are complimentary. If you want to enjoy an alcoholic beverage, you'll have to pay for it. This is an attractive casino that offers those who love table and electronic games a huge number of gambling choices.
Hotel
The hotels at the Marina Bay Sands are magnificent, as they rise 55 stories, with rooms offering amazing views of the region through their floor to ceiling windows. There are a dozen different types of rooms, starting with the Deluxe Room, measuring 39 square meters to the Chairman Suite, which measures 629 square meters. Rooms are decorated with a contemporary look that is sleek, sophisticated, and rich in earth tones.
The basics, that you will find in every room or suite include:
Comfortable king, queen, or single beds
Minibar, completely stocked
Glass enclosed shower
Premium bathroom amenities
Bathrobes made of Microfibre and terry
Powerful hairdryer
Large flat-screen TV with interactive interface
Full cable TV access
On demand TV shows
Work area with executive desk
Personal safe
Iron and ironing board
Shoe maintenance supplies
Rooms are non-smoking and include access to the SkyPark and Infinity Pool, complimentary Wi-Fi, access to the Banyan Tree Fitness Club, and 24-hour room service.
Dining
There are three buffet restaurants, various fine dining establishments, many casual dining and bistro establishments, and 10 celebrity chef venues. Some of the award-winning celebrity restaurants include Bread Street Kitchen by Gordon Ramsay, with a British European menu featuring various signature dishes such as Tamarind Spiced Chicken Wings and Traditional Fish & Chips and Bistro & Oyster Bar by Daniel Boulud, which warmly welcomes guests, serving amazing French cuisine, fine champagne, and wonderful seafood dishes, such as their sumptuous Seafood Platter and hefty New England Lobster Roll. You'll also find the charming Osteria Mozza by Mario Batali, which offers a rich sampling of Italian dishes, including the very special Tagliatelle Verde and popular Pan Roasted Iberico Pork Chop.
Dine on top of the hotel at Sky on 57 by Justin Quek. Along with views you'll never forget, you'll discover the rich variety of modern Franco Asian cuisine. Two of the restaurant's signature creations are JQ's Signature Foie Gras Xiao Long Bao and Grilled Gillardeau Oyster.
If you're a Wolfgang Puck fan, then you'll be excited to discover that the Marina Bay Sands features two of the master chef's restaurants. The initial Puck dining establishment at the Marina Bay Sands is CUT, which focuses on providing diners with the finest meats from Australia, Japan, and the USA. Premium steaks are grilled to perfection over charcoal and hardwood. This elegant, relaxed formal dining room features various dishes, including expertly seasoned Porterhouse and savory Rib Eye Steak. In addition, you can enjoy a meal at Puck's famous Spago, which offers dishes that are inspired by California cuisine. The menu is creative, eclectic, and inspired.
Premium restaurants featuring Asian cuisine include Waku Ghin by Tetsuya Wakuda and Long Chim by David Thompson. Waku Ghin, which has received numerous awards, combines European and Japanese recipes to create wonderful new tastes. Considered by many to be one of the best dining establishments in Singapore, Waku Ghin will delight your taste buds. Try their Marinated Botan Shrimp with Sea Urchin and Oscietra Caviar or their Poached Canadian Lobster. Both dishes are amazing. Long Chim offers guests newly imagined traditional Thai recipes that are boldly flavored by the dynamic Bangkok spice combinations.
Shopping
The Marina Bay Sands provides guests with a magnificent shopping experience that includes over 100 stores in its Shoppes, which is a major upscale mall. Bathe in the natural light that radiates through its beautiful atrium roof and walk along the canal that runs through and evenly divides the shops. Enjoy sampan rides on the canal and get a stunning view of the Rain Oculus, the manmade waterfall that pours out 22,000 liters of water per minute from 20 feet above.
For those with small children, there are six family rooms that include diaper changing areas, warm water basins, sanitary disposable units, and comfortable lounging areas. The Shoppes also offers a complimentary tram for those who would rather ride than walk.
The stores are various, and include those offering women's fashion, men's fashion, jewelry, watches, handbags, shoes, sporting goods, lifestyle items, electronics, and wellness and beauty products. Shop at Calvin Klein Collection, Louis Vinton, Gucci, and Armani Collezioni. Trendy shopping trips will want to include ETRO, ECCO, and Porsche Design. Upscale jewelry shops are numerous, with examples being Rolex, Tiffany and Co., and Longines.
The hours are very customer friendly, as stores open at 10:30 am and close at 11:00 pm from Sunday through Thursday and 11:30 pm on Fridays, Saturdays, and holidays. This is a huge retail area that offers exceptional shopping experiences. Visitors can get lost at the Shoppes for hours.
Entertainment
The Marina Bay Sands has a wide range of entertainment choices located on the property, as well as easy off-site access to Singapore's nightlife. There are various bars, lounges, and nightclubs at Marina Bay Sands, including rooftop bars, waterfront establishments, and vintage drink emporiums. There are more than 20 different drinking establishments that include three of the hottest nightclubs in the region- Avalon. Pangaea, and CÉ LA VI Club Lounge. Enjoy the music, bright lights, and glitz of these upbeat venues.
If you're interested in seeing some first-class entertainment, the Marina Bay Sands has two large premium performance spaces with one seating over 1,000 patrons and the other more than 2,000 audience members. Shows include the international, urban circus troupe Cirque Eloize iD, the spectacular Broadway magic show The Illusionists, the internal hit Blue Man Group, and the child-friendly Madagascar Live. Plus, there's Star Wars and Beyond, which is a celebration of John William's iconic music, the Singapore International Jazz Festival 2016, featuring artists from around the world, and Kool and the Gang, the renowned R&B band.
Also on site is their ARTSCIENCE Museum, which provides families hours of captivating programing. Creative, interactive, and mind expanding, exhibits include Collider: The World's Greatest Experiment, The Nobel Prize: Ideas Changing the World, and The Gift of Mass, focusing on nuclear physics. There are various programs, including lectures, films, workshops, and guided tours.
Of course, the SkyPark, which sits 57 stories above Singapore, is a major attraction. Dine at the rooftop restaurant, enjoy a swim in the Infinity Pool, sip drink and take in the sun's radiance, or treat yourself to Singapore's must stunning views from the Observation Deck. SkyPark offers visitors a unique, unforgettable experience.
Conclusion
The Marina Bay Sands is an amazing integrated resort. Gamblers have a haven where they can play games of chance, visitors can enjoy premium five star accommodations that include all of the amenities and features that define great hotels, and vacationers can access a long list of top-notch experiences. Plus, the rest of Singapore is right at your doorstep. The Marina Bay Sands is an exceptional place to play, visit, and vacation.
Resort World Sentosa
8 Sentosa Gateway
Sentosa Island
Singapore 098269

+ 65 6577 8888
Basics:
Opened: February 14, 2010
Owner: Genting Singapore, the Genting Group
Pros

Wide range of table games
Poker room
Top theme attractions
Cons

High charge for Wi-Fi
Long waits for service requests
Resort World Sentosa started it all in Singapore by being the island nation's first licensed casino. The integrated resort opened in 2010 and has earned a reputation for being one of the top casino resorts in Asia. There's a lot to do at Resort World Sentosa besides gamble, but there is plenty of opportunity to risk some cash on your favorite game of chance. If you have kids, this is a fantastic place to go, as you have access to some of the area's top kid-oriented attractions and experiences. Plus, you can enjoy the beach, access downtown Singapore in 25 minutes, and partake of various featured shows and performers.
Those who stay at Resort World Sentosa rave about how much there is to do. Plus, there are numerous choices when it comes to accommodations, as the integrated resort features six different hotels, plus beach villas, tree lofts, and ocean suites. There are numerous and various dining establishments, including 18 Asian restaurants, nine celebrity chef dining venues, and more than a dozen family and fast food choices. If you enjoy shopping, Resort World Sentosa has 36 quality shops. While this is a very busy place it is also relaxing, as it is apart from the hustle and bustle of the mainland.
Casino
The 24/7 casino at Resort World Sentosa, which is 15,000 square meters, is luminescent and richly decorated in various tones of gold and red. Situated below Crockfords Tower, the primary gaming room features wide aisles and connected smaller aisles to gaming tables, making it easy for players to access their game of choice. This is a full gambling establishment, as players can partake of table games, electronic machines, and poker. Private gaming rooms for premium players are located in Maximums Club, Maximums Platinum Club, and Crockfords Club.
Maximums Club, with table games and slots, offers 24-hour access to Happy 9 dining, and includes a smoking area. Maximums Platinum Club is for Genting Rewards members who are at the Platinum level or higher. This club includes access to dining at the Pair, numerous slots and table games, private gaming rooms, and a smoking area. If you play at Crockfords Club, you will enjoy exclusive services, private gaming rooms, and a wide range of table games and slot machines. Dining is available at Crockfords Lounge and Crockfords Grill.
You'll find more than two-dozen different table games at Resort World Sentosa and over 500 gaming tables with minimums starting at $10 SP ($7.00 US) for some games, such as craps, and $25 SP ($17.50 US) for blackjack. Along with craps and blackjack, the casino offers both Commission Baccarat and Non-Commission Baccarat; American and European Roulette; and Blackjack Switch. Baccarat is especially popular, with the Resort World Sentosa casino also including Commission Baccarat with Insurance, Commission Baccarat with Super Six, Non-Commission Baccarat with Insurance, and Non-Commission Baccarat with Super Six.
Caribbean Stud Poker, Pai Gow, Tai Sai, and Three Card Poker are played. Plus, you'll find the popular table game Progressive Texas Hold'em, as well as Money Wheel, Casino War, and Mini Dice. Both Pontoon and Pontoon Pandemonium can also be found.
In terms of electronic and reel games, there are over 2,300 slots and other games. Included are electronic versions of roulette, Sic Bo, and Rapid Baccarat ready to be enjoyed at any time. Various versions of video poker are also waiting to be played. Slot minimums start at one-cent. You'll find stand alone, as well as linked progressive machines. The latest video slots are available, including those with multiple bonuses and numerous jackpot levels.
If you love to play poker, then the only legal land-based game you'll find in Singapore is at the Resort World Sentosa casino. In the poker room, you'll be able to play No-Limit Texas Hold'em. There are seven tables with the most commonly played version offering blinds of $5/$10 SP. You'll usually find these stakes being played every day of the week, while some weekend tables will also offer higher stakes, such as $10/$20 SP, $25/$50 SP, and $100/$200 SP.
The rake structure in the poker room at the Resort World Sentosa casino is a bit unusual. If the pot is $100 SP or less there is no rake. Any other pots are raked at a rate of 5% with the maximum amount for any one pot being $50 SP. Note that even if there is no flop, a rake is collected. That means that higher limit tables always have 5% deducted from the pot. Thus, if you're in the blind and don't get a call, you end up having to pay the commission on the hand.
You find that the casino at Resort World Sentosa is very welcoming. The croupiers and staff are first-rate and the game choice is extensive. This is a busy casino that can be enjoyed by any level of player.
Hotels
The hotels and other accommodations at Resort World Sentosa are topnotch. Each hotel has its own style, personality, and flavor. Plus, there are additional accommodations that include private villas, lofts, and suites. Here's a consideration of the various accommodations located at Resort World Sentosa.
Festive Hotel
This is the perfect hotel for families. The child friendly accommodations offer extremely comfortable twin or king beds. Choose to stay in a Deluxe Family King room that offers a fun loft bed. Cribs are available for families with babies. On site, your kids can enjoy a pool and wet play area that fits them perfectly. The Festive Hotel is located near Festive Walk and World Square and is a few minutes' walk from Universal Studios Singapore, S.E.A. Aquarium, and Adventure Cove Waterpark. Plus restaurants, shops, and entertainment are all nearby.
Hard Rock Hotel Singapore
Set in a central location the Hard Rock Hotel Singapore is a great place for those who are interested in accommodations that offer a trendy rock edge. Filled with rock and roll memorabilia, including those related to Pearl Jam and Red Hot Chili Peppers, this is a popular hotel for those who love upbeat, iconic popular music. Every room includes a pull out bed, giving families an extra sleeping area. Guests have easy access to various attractions, including S.E.A. Aquarium, Universal Studios Singapore, and the premium spa experience offered by ESPA. The Hard Rock Hotel Singapore is a happening place to stay and be.
Hotel Michael
If you love art and grand architecture, then consider a stay at Hotel Michael, which service as a wonderful, enriching tribute to premiere American architect Michael Graves. Each guest room and suite at Hotel Michael is like a small gallery, elegantly and exquisitely designed and featuring wonderful murals and other works of art. Bathrooms are beautifully decorated and include unique blue mosaic-tiled circular showers and mosaic walls decorated with flower patterns. Conveniently located, Hotel Michael is just a short walk away from Universal Studios Singapore.
Equarius Hotel
The Equarius Hotel is where refined luxury seamlessly blends with Asia's natural beauty. Located on the continent's southernmost tip, Equarius Hotel is a real find for those who want to connect with nature and enjoy a genuinely special adventure. Take in resplendent views of sea or forest, relax in your deluxe room that is outfitted with luxe mattresses embraced by 400 thread count Egyptian cotton bed linen, and unwind in the spacious bathroom, soaking in the soft waters of your full-sized tub. Relax on your private balcony, take a nature walk, or get some special pampering at Resort World Sentosa's premiere spa, ESPA. All rooms include 24-hour personal butler service. By the way even though you're in the midst of nature, it's a short walk from your hotel to Universal Studios Singapore, S.E.A. Aquarium, and other attractions.
Crockfords Tower
This is the ultimate of all hotels at Resorts World Sentosa, as Crockfords Tower offers its guests the most lavish suites. Each bath has its own TV set and steam bath, and all of the furniture in your suite is custom-designed. Indulge in the ultimate in personalized service and partake of premium amenities including fruits and chocolates, welcome beverages, and more. Whatever you want is available 24/7 through your own butler. Enjoy the best of the very best when staying at Crockfords Tower, which is directly and conveniently connected to the casino.
Beach Villas
Very special accommodations are located in the western section of this integrated resort. Resorts World Sentosa offers exclusive Beach Villas, which are secluded paradises that include breathtaking views, premium accouterments, and your own butler. You'll enjoy easy access to various attractions, such as Adventure Cove Waterpark. When you stay at one of Resorts World Sentosa's Beach Villas you'll receive complimentary services at their exclusive spa, ESPA.
Ocean Suites
Also available at Resorts World Sentosa are 11 suites, which follow the layout of an upscale two-story townhouse. These are extraordinary suites with second floors offering open living rooms and a patio and outdoor Jacuzzi. When on the floor below you'll get an amazing underwater view of over 40,000 living sea creatures. Each suite allows you a personalized view of your own private aquarium. You'll also have access to a personal butler and various five-star features and services.
TreeTop Lofts
Resort World Sentosa offers two unique TreeTop Loft units that are designed for up to two adults and one child. You'll be 12 meters above the ground in an exclusive and private loft that includes an expansive living room and a stunning bedroom. Each loft also has a walk-in wardrobe, outdoor terrace, and a wide range of premium amenities. Your personal butler is ready to serve you at any time. Stay at a TreeTop Loft to be cradled by nature and spoiled by luxury.
Genting Hotel Jurong
The newest hotel, Genting Hotel Jurong, is the first hotel to be constructed in the growing Jurong Lake district. The accommodations are truly special as the theme and look is focused on creating a hotel in a garden. Beautiful and exquisite, Genting Hotel Jurong includes stunning sky terraces, wonderful roof gardens, and unique landscaping. The rooms are furnished and decorated in a clean, contemporary style. Relaxing, energizing, and exclusive, this is a special property. Genting Hotel Jurong offers quick and easy access to Resorts World Sentosa.
ESPA
Resorts World Sentosa features one of the most exclusive spas you will ever experience. Set on 10,000 square meters, ESPA is devoted to relaxation, renewal, and pleasure. Physically and mentally rejuvenating, ESPA offers guests the ultimate premium experience. Included is Singapore's first genuine Turkish Hammam, Vitality Pools, Forest Onsen-style Pools, Rock Saunas, Crystal Steam rooms, and the special spa café Tangerine. Appointments are necessary.
Dining
With well over two-dozen eating establishments, including fine dining, family, and fast food restaurants, Resorts World Sentosa has every type of food that you can imagine. Celebrity chef restaurants include Forest, with a forest-like ceiling and design elements, offering diners the special creative efforts of chef Sam Leong and Joël Robuchon Restaurant, with its refined and elegant setting, providing guests with the finest French haute cuisine and wines. Also, you can dine at the Ocean Restaurant by Cat Cora, which is the region's initial aquarium dining experience, where you'll enjoy magnificent views of sea life while partaking of fine cuisine.
Other premium restaurants include Feng Shui Inn, which offers authentic Cantonese cuisine; L'Atelier de Joël Robuchon, which is the very best in Avant-Garde French dining; and Osia, which combines the creative efforts of chefs Scott Webster and Douglas Tay as they create unique dishes that join East and West.
There are also various bars and lounges where you can relax, enjoy a range of dishes, imbibe great drinks, and listen to the latest music. Visit the Casino Royale Bar, an upbeat, sophisticated establishment with expert bartenders and great music; Crockfords Club, which is exclusive and reserved for VIP guests; and the Rock Bar, with it rock and roll theme, memorabilia, and winning food and drinks.
Shopping
Although the shopping mall at Resort World Sentosa is not as extensive as that at the Marina Bay Sands, there's still plenty of opportunity to purchase upscale items including women's fashion, men's wear, jewelry, watches, electronics, sporting goods, accessories, and more. Luxury shops include the Swiss shoe and accessory retailer Bally, the smart and edgy designer handbags, clothing, and accessories from Kate Spade New York; and leading luxury watchmaker Rolex.
Entertainment
There are certainly a lot of entertainment possibilities at Resort World Sentosa. However, unlike Marina Bay Sands, you won't find much in terms of Western style performances. Shows at Resort World Sentosa tend to be comprised of performers and acts that are popular in Asia.
Much of the entertainment is associated with theme areas and special attractions, such as the resoundingly popular Universal Studios Singapore, where you'll Ride the Movies and experience attractions inspired by a range of films. Included are Puss In Boots' Giant Journey, Battlestar Galactica: HUMAN vs. CYLON, TRANSFORMERS The Ride: The Ultimate 3D Battle, Jurassic Park Rapids Adventure, and Sesame Street Spaghetti Space Chase.
Other attractions include the always lively and intriguing S.E.A. Aquarium, where you'll view over 800 species of water life and more than 100,000 creatures in 49 unique habitats and the ultimate waterpark, Adventure Cove Waterpark, with its thrilling slides, lazy rivers, and snorkeling adventures where you can encounter hundreds of sea creatures. Plus, there's the intriguing Trick Eye Museum, which plays with human perception of space and dimension.
Conclusion
Resort World Sentosa is a premium, integrated resort. The casino is well run, and along with offering a great selection of table games and an extensive roster of electronic gaming machines, this is the only casino in Singapore that has a licensed poker room. Despite the fact that it is a good 25 minutes from the hubbub that defines Singapore, there's a lot to do at Resort World Sentosa. There are activities just for kids, a wide range of restaurants, plenty of shopping opportunities, and access to various types of activities including Universal Studios. Plus, you can enjoy the beach, take in a show, or enjoy a drink and a dance at one of the great nightclubs.
For those who want to partake of Singapore's main island experiences and attractions, it's easy to access them through various modes of transportation. At the same time, by staying at Resort World Sentosa you can enjoy what is a relatively more tranquil atmosphere. For families, this is an ideal integrated resort and, in addition, the Resort World Sentosa is a wonderful place for couples.
Top 10 Attractions and Things to Do
There's a lot to do in Singapore, including visiting local markets, parks, and sites. See various live shows, play 18 holes of golf, or visit the Turf Club where you can bet on the horses. There are plenty of thrills, unique adventures, and fun events that await you on this island-nation. Here are 10 that we think you'll enjoy.
Esplanade - Theatres on the Bay:

– This is a mega arts center that offers various performance venues including a theatre, outdoor performance area, and concert hall. You'll discover various free events that are perfect for the entire family. Included are special cultural and heritage celebrations and displays, local and international performances, and numerous live shows. This venue is nicely situated on the riverfront.

Lau Pa Sat Festival Market:

– Lau Pa Sat Festival Market is an historic building that was constructed in 1894. Located in Singapore's thriving business district, you'll find all sorts of inexpensive foods being sold in the day. At night, it comes alive in a different way when the street is closed and favorite regional foods, including authentic Asian dishes, are sold from various outdoor stalls. This is an inexpensive, interesting market where you'll find real regional cuisine and enjoy the local color.

Lido Casino:

– There is one more casino in Singapore. Actually, it navigates around the islands. Open 24 hours a day, the Lido Casino, which is on the ship named Leisure World, will entertain from 600 to 700 gamblers a day. The table minimums, which are very low, start at $2 SP. Along with table games and slots, they do offer poker.

Marina Bay Golf Course

– This was Singapore's initial 18-hole golf course. It's a very fine par 72 course that features challenging traps and hazards, long fairways, and nicely maintained greens. At the Marina Bay Golf Course, you'll also enjoy an amazing view of the city's skyline. The course also offers a putting green and driving range.

Reverse Bungy:

– This is a major rush and not for the faint of heart, as you are thrown towards the sky at 200 km/hr. After you reach a height of 60 meters, you'll bound about for about five minutes in an open-ended capsule. Riders need a sturdy stomach for this one.

Singapore Night Safari

– The Singapore Night Safari is a wondrous experience that allows visitors to view thousands of animals from Europe, Africa, Asia, and the Americas in natural environments and at night when they are often predatory. This award-winning attraction is one of the best of its kind on the globe. Along with being entertaining and educational, the Singapore Night Safari is focused on public education and on preserving wild life and the environment.

Sunday Brunch at the Fullerton

– This free flowing champagne brunch is considered to be one of the best on the globe. Included is cuisine from Japan, the Mediterranean, Italy, and the local region's cultures. Brunch is served at the Fullerton Hotel's Town Restaurant on Sundays from 12 noon to 3:30 pm.

Sungei Buloh Wetland Reserve

– This 87-hectare wetland reserve offers visitors great bird-watching opportunities of the numerous species that inhabit the area and those that stop over as they migrate. It's a pleasant one-hour drive from the center of Singapore to the reserve.

Singapore Turf Club:

– If you want to play the horses, then the Singapore Turf Club, which was founded in 1842, is the place to visit. Thoroughbred horses are featured at the track, plus you can bet on races in England, Australia, Macau, South Africa, Korea, and various European regions. It is the only horseracing club in Singapore and they are a member of the Malayan Racing Association. Races are held around the year on most Fridays and Sundays.

Universal Studios Singapore:

– If you love movies and/or themed attractions, rides, and experiences, then you've got to go to Universal Studios Singapore. Located at Resorts World Sentosa, you can meet a vast array of movie characters, including Shrek, Charlie Chaplin, PO from Kung Fu Panda, the Scorpion King, and Marilyn Monroe and engage in a wide range of movie-themed experiences.
Getting There
The best way to get to Singapore is by air, as it is one of Southeast Asia's largest aviation hubs. Various low-cost carriers, such as Tiger Airways, Jetstar Asia, and Scoot, fly to the region's main airport, which is Changi Airport (IATA: SIN). Singapore Airlines is the region's primary carrier. A convenient shuttle will get you to your resort or hotel.
Most people from other countries do not need a visa to enter Singapore. However, you are required to have a current passport and every time you go into Singapore you must fill out an immigration card. Make sure you put the card in a safe place, as you'll have to present it in order to leave the country.
Cost
Flight prices vary but those flying from Europe or the Americas can expect to pay from $1,600 US to $2,500 US per person round trip. Once there, you'll find that by western standards the area is fairly inexpensive. Food is especially low priced, as local restaurants and venders charge around $5.00 SP for a meal. Of course, if eating at an integrated resort, celebrity restaurant, or fine dining establishment, you'll pay a lot more.
Depending on discounts and specials, a premium hotel room starts at around $350 SP per night and can easily cost $600 SP or more. Staying offsite will save you money, as you can get a good room at prices ranging from $100 SP to $300 SP. Singapore, which is highly industrialized, is more expensive than any other Southeast Asia country.
Environment
Singapore is a very busy and frenetic place. Although generally speaking the people are friendly, some of their habits may put off foreign visitors, including their lack of decorum in the use of cell phones, their tendency to push ahead and cut when in line, and their penchant for providing poor service at stores and restaurants. By the way, service at Marina Bay Sands and Resorts World Sentosa is noted for being better than average.
Most people in Singapore under the age of 50 speak English. The crime rate is low and punishments are harsh with various offenses resulting in caning. Singapore has very strict drug laws and public drunkenness is not tolerated.
Rain is a daily occurrence but downpours rarely last more than an hour. The city-state is very close to the Equator, which means there are no clear seasons and temperatures are high. In December and January, temperatures range from 29.5°C (85.1°F) in the daytime to 22.5°C (72.5°F) at night. The rest of the year, you'll find temperatures at around 32°C (89.6°F) in the daytime and at 24°C (82.4°F) at night.
Also note that from May through October the forest fires in nearby Sumatra can create dense haze that makes for unhealthy air levels. This situation can change quickly, with air quality improving without warning. If you have heart or lung issues avoid the region from June through October. Rain is most likely from November through January and thunderstorms are common during the day.
If going to Singapore carry an umbrella, sunglasses, sunscreen, and mosquito repellent. Dengue fever, which is spread by mosquitos, is a problem in the region. Clothing should include shorts and light fabrics, a sweater for air-conditioned areas, and smart casual clothing, which is required by the casinos. Don't forget your bathing suit!
History of Gaming in the Region
We know that Singapore had illegal gambling in the 17th century and that in 1820 table games became legal. There were various gaming clubs, which included betting on cockfighting and selling raffle tickets or public lotteries. But gambling would not be readily accepted in the region for a long time, and there were numerous government efforts to control and eliminate it. In 1829, gambling was banned in the region.
During the 19th century there was a lot of debate over the pros and cons of gambling, and there were numerous illegal betting establishments. The Police Act of 1856 was the first formal law instituted against gambling houses. More laws banning gambling were passed in 1870, 1876, 1879, and 1888.
Illegal gambling continued to be a problem. This led in 1960 to the Betting Act. And in 1961, the Common Gaming Houses Act was passed. These were attempts to both monitor and legalize certain types of betting, such as lotteries, horse betting, and sports wagering. It was not until 2005 that Singapore made casino gaming legal.
That opened the door for the development of two integrated resorts, World Resorts Sensota and Marina Bay Sands. Both of these properties operate casinos. They are the only legal casinos in Singapore.
There are various strict regulations governing casinos. These include a limit on betting spaces with total allotted space for wagering in a casino not to exceed 15,000 square meters. Plus, local residents who want to bet at one of the casinos must pay a tax of $100 SP for a 24-hour visit or a total of $2,000 SP for one year.
Other forms of gaming that are allowed and controlled include lotteries, horseracing at the Singapore Turf Club, and sports betting. Most people in Singapore who wager on sports focus on soccer.
For the Best Gaming Experience
For those who are looking for premium integrated resorts that feature gambling either the Marina Bay Sands or Resorts World Sentosa are excellent venues. If you'd like more of an urban experience, then the Marina Bay Sands is your casino of choice. However, if you'd like to be away from the frantic energy of the main island, then Resorts World Sentosa is your cup of tea. The former is perfect for adults wanting to experience Singapore's nightlife, while the latter makes sense if you're more family oriented and are interested in connecting with nature. Both resorts offer premium gaming experiences, but remember, only one, Resorts World Sentosa, offers a poker room. Enjoy your time in Singapore!