Offline Casino Guide for City of Macau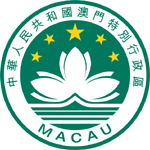 Macau, which brings in more revenue from gambling than anywhere else in the world, including the Vegas Strip, is part of the People's Republic of China and is classified as a Special Administrative Region. It is nicely situated, as it is across from Hong Kong and along the estuary of the Pearl River. Macau, which offers a host of world-class casinos, is thickly populated and visited by tourists from around the world.
Macau, with its impressive casinos, is glitzy, flashy, and ostentatious, while, simultaneously, it is rich with history, brimming with authentic Asian culture, and marked by nature's beauty. This is one of the globe's hotspots that, like Las Vegas, welcomes those who love to gamble, are looking for a range of entertainment choices, and want to enjoy a truly unique experience. If you looking to engage in a premium casino experience, then Macau should be one of your destinations of choice.
Pros and Cons of Macau
Top casino experience
English is spoken by frontline workers
Lots to do besides gambling
Overall, safe place to visit
Densely populated
Extreme taxi shortage
Pickpockets and scam artists
Possible typhoons
Overview Land-Based Casino Experience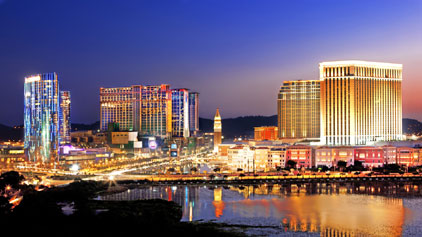 There are two central areas of Macau where the casino experience is present. The original site for casinos was the Macau Peninsula, but the island of Taipi and the area of Coati, which features the Coati Strip, have overshadowed that area. Of the close to three-dozen licensed casinos in Macau, about two-thirds are located on the Macau Peninsula, while the other third, which are on the Coati Strip, are some of the biggest, most popular, and best casinos in the world. Thus, for gamblers visiting Macau, especially those from the West, the Coati Strip is the place to be.
Gambling has been legal in Macau since the 19th century, but it was not until the 20th century that Western games of chance were introduced. In the last decade or so, Macau has attracted a lot of investment from the West and especially from Las Vegas. Thus, when you gamble at a Macau casino that's owned by a Western company you'll access the Vegas gambling experience encapsulated in a culture that is predominantly Asian.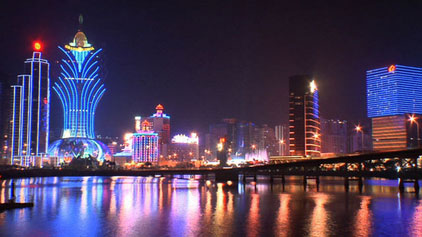 The casinos on the Coati Strip in Macau are huge. Some measure over one-half million square feet. Commonly found games include casino standards, such as baccarat, blackjack, roulette, and craps. Others include Caribbean Stud Poker, Fortune 3 Card Poker, 3 Card Baccarat, and Sic Bo. Plus, at select casinos, you'll be able to play Fan Tan, Mah Jong Pai Gow, Big Six, Casino War, and keno. Plus, you'll find plenty of electronic gambling opportunities, including a wealth of slot and video poker machines. Poker can also be found at some casinos.
The gaming environment in Macau is very exciting and thick with action. The casinos offer everything from low to medium to high stakes tables and games and high rollers are welcome. In order to play, you'll need to use Patacas, the currency of Macau, which needs to be converted from Hong Kong Dollars (HKD). Exchange rates for HKD certainly fluctuate and vary from time to time. A few examples regarding the rate of conversion include 1.00 USD = 7.75 HKD; 1.00 Euro = 8.47 HKD; and 1.00 BPS = 11.47 HKD. The conversion from HKD to Patacas is close to 1.00 HKD for 1 Patacas. Thus, if you are from the West, your cash can go a long way when gambling at a Macau casino.
Make sure you're fully prepared before you head off to Macau by checking out our casino game guides or practising at one of these top rated live dealer online casinos.
Top 10 Casinos
Macau casinos offer two basic types of experience. There's the Las Vegas type of casino, which usually includes large gaming areas as well as a variety of table games, slots, video poker machines, and electronic table games; an upscale hotel and shops, and plenty of places to eat and, possibly, some entertainment options. There are also Eastern casinos, which focus on utilizing space to its fullest, have a limited number of games and slots, cater to junkets, and have fewer additional features than Vegas-style casinos, such as shops and restaurants. Here are our choices for the top 10 casinos in Macau with some being more Vegas based and others more Asian.
Altira Macau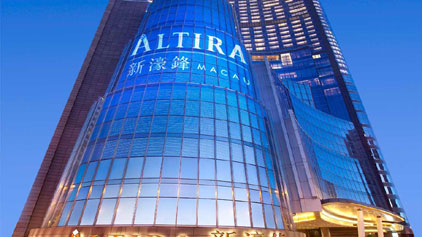 Avenida de Kwong Tung
Taipa, Macau SAR
P.R. China

(853) 2886 8888
Basics:
Opened: May 20, 2007
Owner: Melco Crown Entertainment
Pros

Hotel rooms some of the best in Macau
Low minimums
Health club and spa top-notch
Cons

Caters to VIP junkets
Few promotions
The Altira Macau is not the biggest casino in Macau, but it is a popular one with junkets. Junkets are catered to on seven of the casino's gaming floors, 2, 3, 5, 8, 9, 17 and 37. There are 25 companies that bring VIP players to the Altira. If you're part of the general public, you'll be confined to the first floor of the Altira Macau, which offers 20 gaming tables and 99 slot machines. Also available are electronic roulette at $0.65 US ($5 HK) and baccarat $4 US ($30 HK). There are three table games available, baccarat, blackjack, and Commission Free Baccarat. Game minimums start at $40 US ($300 HK). The high roller area, which has 10 baccarat tables, offers the popular game at minimums of $65 US ($500 HK), $130 US ($1000 HK), and $260 US ($2000 HK).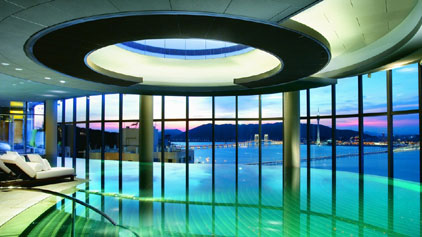 The hotel, which has just 216 rooms, offers well-appointed accommodations, a winning health club, premium two-story spa, and a fine pool offering wonderful views of Macau. There are four signature restaurants, including Ying, which serves Cantonese food; Kira, offering Japanese cuisine; and Aurora, which presents an Italian menu. These are pricey establishments. The 38 Lounge is the Altira's bar. It has fine views of the region, a solid cover band, and great drinks. If you're into shopping, you'll need to go somewhere else, as the Altira has just one shop.
Many consider this to be Taipa's best hotel. But due to junket traffic it's tough to get a room. If you do, you'll stay in a gem of one. The casino is minimal, but the facilities are first-rate.
Casino Lisboa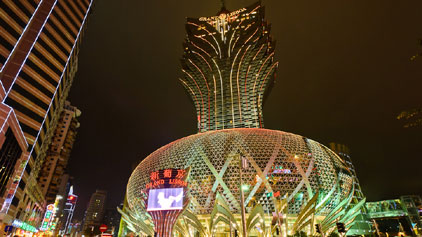 2-4 Avenida de Lisboa
Macao SAR
P.R. China

(853) 2888 3888
Basics:
Opened: 1967 (Licensed 1970)
Owner: Sociedade de Turismo e Diversões de Macau (STDM), a Stanley Ho company
Pros

Low table minimums
Classic table game Fish, Prawn, Crab offered
Classic hotel and low-priced rooms
Cons

Casino is cramped
Restaurants pricey
The Casino Lisboa, which was built in 1967, offers a gaming environment that is much more European, as rooms are smaller, less ostentatious, and focused on attracting veteran, hardcore gamblers. In short, this is not a Vegas casino. In 2007, this elder Macau casino reopened after getting a major overhaul that made the rooms brighter and more inviting. But still, compared to newer casinos, the Casino Lisboa has a dark, sinister feel to it.
There are a total of 95 gaming tables that are situated on two floors. The tables are crammed onto both floor in an attempt to utilize as much space as efficiently as possible. Minimums start on the low end with roulette at $2.60 US ($20 HK) and blackjack $ 6.45 US ($50 HK). Many tables offer minimums of $12.50 US ($100 HK) and $25 US ($200 HK). High roller tables are all on the second floor and start at $260 US ($2,000 HK) and some offer minimums of $1,390 US ($10,000 HK). The third and fourth floors offer private gaming rooms for junkets.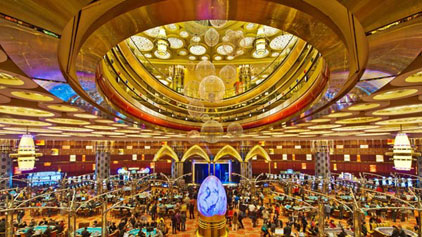 Games include baccarat, roulette, blackjack, Sic Bo, Fan Tan, Pai Gow, and the rare Fish, Prawn, Crab. The SJM Slot Hall includes 73 machines plus electronic baccarat and Sic Bo. Penny slots are available.
Although old, the hotel is beautifully designed and a real throwback. The two lobbies are true show palaces. Plus, all through the hotel you'll find wonderful art, artifacts, and jade. The rates for the close to 1,000 rooms are low. In addition, there are four floors of shopping where you can buy clothing, jewelry, electronics, and other items.
If you are looking for entertainment, you will not find very much at the Casino Lisboa, nor will you discover much bar life at this casino. You will be able to dine at 11 different restaurants, including Robuchon a Galera, New Furusato, and Noite e Dia Café. If you are on a budget, you'll find the dining establishments at this casino to be quite pricey.
City of Dreams Macau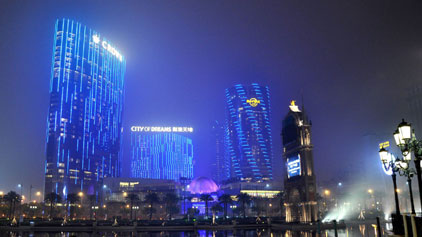 Estrada do Istmo,
Cotai, Macau SAR
P.R. China

(853) 8868 6688
Basics:
Opened: June 1, 2009
Owner: Melco Crown Entertainment
Pros

Two of three hotels are premium
Great drink service
Easy to get around
Cons

Not for families
Sensory overload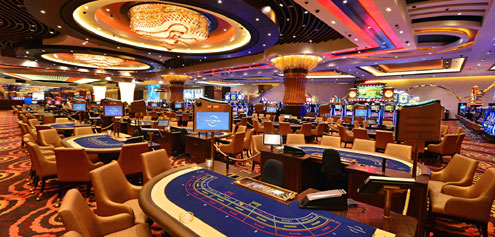 The City of Dreams is a hip, brash, and trendy resort that includes three hotels, various first-class signature restaurants, two casinos, and a gaming experience that is heightened by sensory overload, as lights, sounds, and a frenzy of action flood through the gaming room. If you're single or a couple looking for a premium casino that includes all of the entertainment, dining, and bar hopping experiences, the City of Dreams is for you.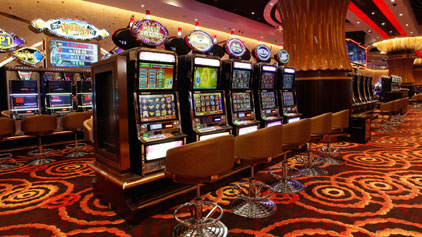 The City of Dreams casino offers a total of about 200 gaming tables and 1,200 electronic gaming machines. Of the 200 tables about 140 are on the main gaming floor and offer minimums from $25 US ($200 HK) to $250 US ($2,000 HK). There are about 80 high roller tables in various rooms, which may be played at minimum rates that start at $150 US ($2,000 HK) and go to $650 US ($5,000 HK). A majority of the slots are located along the perimeter of the main gaming room while other electronic games may be found in the E City Lounge. Included are baccarat, Big Wheel, blackjack, craps, roulette and Sic Bo. Minimums are around $4.00 US ($30 HK). Also part of this complex is the Hard Rock Casino, which is a much smaller, a bit less frenzied, and a tad warmer in terms of look and feel.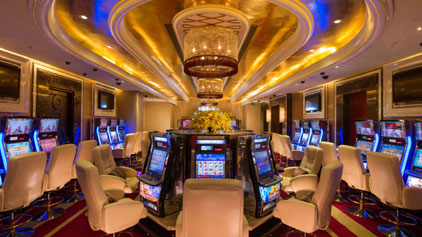 The City of Dreams Signature Club offers four levels of membership, Blue 0-79 points), Gold (80 points), Red (800 points), and Green (8,000 points). Exclusive benefits are awarded to Red and Green members and include free first-class ferry service, free limo or city car service, room upgrades, access to the Signature Club lounge, and more. Redeem points for alcohol, cell phones, electronic notepads, clothing, jewelry, or accessories.
The three hotels at City of Dreams are the Crown, Hard Rock, and Grand Hyatt. The two-towered hotel, the Crown, offers 800 rooms, while the other two have about 300 rooms each. Rooms are nicely outfitted and are fashioned in a clean, contemporary manner. There are various restaurants, with those that are premium being Ji Xiang Yuan, Golden Pavilion, and Ru Yi Noodles. The City of Dreams hallmark show, House of Dancing Water, is one of the entertainment highlights in Macau.
Emperor Palace Casino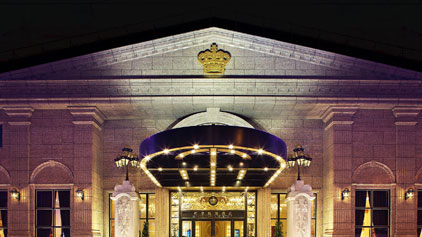 288 Avenida Commercial De Macau
Macau SAR
P.R. China

(853) 2822 9878
Basics:
Opened: January 5, 2006
Owner: SJM
Pros

Low minimums
More tables and slots than expected
Comfortable hotel
Cons

No pool
Information on player's card lacking
The Emperor Palace Casino, which is associated with the Grand Emperor Hotel, is deceiving, as it looks from the outside as if it might offer a mid-sized gaming room. But once you enter the Emperor Palace Casino, it becomes apparent that this casino has a lot more to offer than you had imagined. The Emperor Palace Casino has six floors of fun that include gaming tables, electronic gaming machines, restaurants, and shops.
This casino has a total of 80 gaming tables and more than 300 slot machines. You'll find most of the slots on the first floor, while table games are on floors two through six. Casino games include baccarat, Pai Gow, Sic Bo, blackjack, and roulette. Table minimums start at $15 US ($100 HK). You'll find baccarat and Sic Bo minimums as low as $6.45 US ($50 HK) and roulette at $2.60 US ($20 HK). Minimums on the top two floors are much higher. As an example, baccarat minimums start at $129 US ($1000 HK) and go up to $645 US ($5000 HK).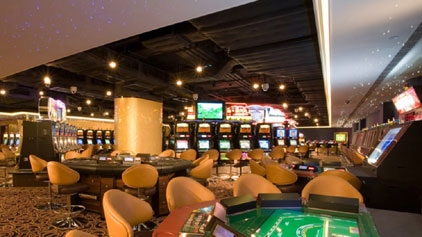 On floor two and three, you'll discover a majority of the Emperor Palace Casino restaurants. The food is good and inexpensive with many dishes costing less than $6.45 US ($50 HK). Gourmet meals cost more. Floors five and six have a very warm feel and are open and expansive.
There's a player's card that offers four levels of benefits. These are their Red Card, Gold Slot Card, black VIP Card, and, the highest ranked card, Platinum VIP. The Emperor Palace Casino makes it difficult to figure out exactly how their system works. However, in basic terms, points can be redeemed for food, phone cards, cigarettes, ferry tickets, and jewelry.
When you enter the Grand Emperor Hotel, you can't help but notice that there's a fairly gaudy British royalty theme. The hotel rooms are nicely appointed and roomy. The hotel has a decent gym with various weight and cardio machines, but there are few shops, no pool, and no entertainment. There are two spas, both of which you must pay to use. Overall, the casino is a good place for those who like a variety of games, and the hotel provides decent value.
MGM Grand Macau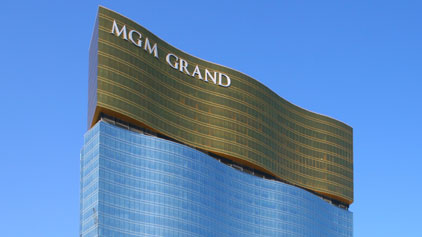 Avenida Dr. Sun Yat Sen
NAPE, Macau SAR
P.R. China

(853) 8802 8888
Basics:
Opened: December 18, 2007
Owner: MGM Resorts International and Pansy Ho
Pros

Lots of gaming action
Great player program
Fantastic hotel
Cons

Design of casino uninspired
No entertainment
The MGM Grand Macau is a big casino. Like the Sands, the MGM Grand is under- designed and doesn't have a lot of panache. There are plenty of gaming opportunities in a casino that seems to have decided that décor and style are not very important. The ground floor is designated for public bettors, while the second floor caters to VIP junkets.
The first floor includes approximately 250 gaming tables and over 1000 slot machines. Plus, you can play video poker and electronic versions of blackjack, craps, roulette, baccarat, and Sic Bo. Table games include blackjack, Commission Free Baccarat, Three Card Baccarat, and Caribbean Stud Poker. You can also play craps, roulette, Sic Bo, Three Card Poker, and Casino War.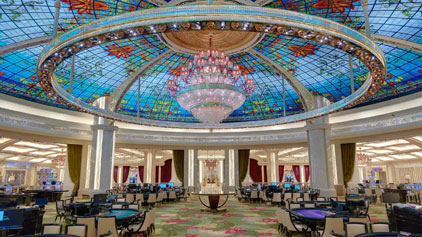 Table minimums are either $15 US ($100 HK) or $30 US ($200 HK). If you play in the Las Vegas room, which is designated for high rollers, you'll find table minimums starting at $130 US ($1,000 HK), $260 US ($2,000 HK), and $390 US ($3,000 HK). Slot minimums tend to be $1 HK, which is less than $0.15 US.
The MGM Grand offers a solid player program, which includes four levels of membership. These are Golden Lion Card, Elite Club Card, Platinum Card, and Supreme Card. Earn points to get jewelry, computers, video cameras, wine, and other products. There are also ongoing promotions that give away big prizes.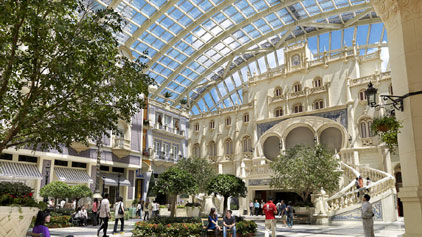 Inside the lobby of the MGM Grand Hotel they have recreated an old-world European square known as Grande Praca. This is a magnificent accomplishment that includes a glass dome that gracefully filters ambient light, well-situated and beautifully maintained plants and flowers, and various decorative facades and terraces. The design elements change with the various seasons. The 35-story hotel offers 600 beautifully appointed rooms. Prices can be high on the weekend. This is one of Macau's best casino hotels.
Rio Casino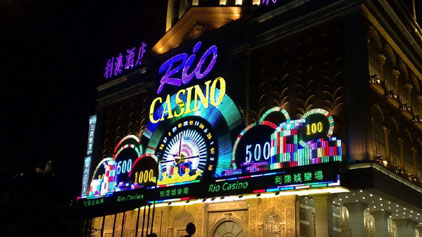 COTAI, Macau SAR
P.R. China

(853) 2888 0888

galaxymacau.com
Basics:
Opened: May 15, 2011
Owner: Galaxy Entertainment Group
Pros

Very good value
Great location
Comfortable rooms
Cons

Casino caters to VIP players
Very few shops and restaurants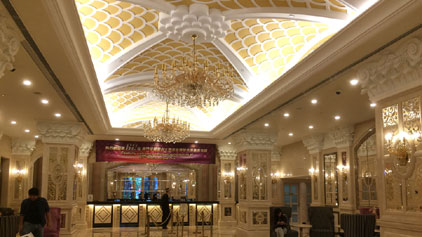 The Rio Casino, which is owned by Galaxy Entertainment, is one of the most beautiful hotels and casinos you'll find anywhere. Utilizing an Italian Renaissance theme, the Rio offers an eyeful of splendor, featuring gold chandeliers, stunning artwork, and gorgeously decorate walls and ceilings. This is not the biggest hotel casino in Macau, but it is the most elegant one.
The Rio in Macau may be a sumptuous casino, but it is not huge. There are about 40 gaming tables with five designated as VIP. Minimums at basic tables range from $15 US ($100 HK) to $40 US ($300 HK), while the VIP table minimums range from $65 US ($500 HK) to $260 US ($2000 HK). There are approximately 100 slots with minimums going from $0.05 HK to $1.00 HK. Game variety is limited with roulette, baccarat, and blackjack offered, as well as No Commission Baccarat, Caribbean Stud Poker, and Sic Bo.
In order to be a part of their Players Club, you'll have to buy in as a VIP member for $1,500 US ($10,000 HK). That buy in is good for 100 points. The points can earn you free hotel rooms, services, and dinners. The accommodations are very good and, when compared to other similar facilities, a solid bargain.
There are a total of 449 rooms, including 65 suites. The facility includes a spa, a few shops, three restaurants, a nightclub, and a bar. A health club is advertised, but includes only a few cardio machines and weights. The pool on the 24th floor is nicely appointed. Overall the Rio offers patrons a solid gaming experience.
Sands Macao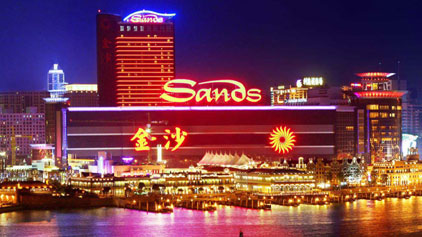 Largo de Monte Carlo
No.203
Macao SAR
P.R. China

(853) 2888 3330
Basics:
Opened: May 18, 2004
Owner: Las Vegas Sands
Pros

Lots of games
Casino's main gaming room is smoke-free
Good restaurants and bars
Cons

Hotel personnel not very efficient
Casino table minimums are high
The Sands Macao provides visitors with an authentic Vegas-style gaming experience. The Sands is completely focused on accommodating gamblers and not on presentation or décor. This is not an elegant or thoughtfully designed gaming environment. At the Sands Macao, there are four floors dedicated to gambling, with the first floor, which is smoke-free, offering a majority of the games. In the various gaming rooms, you'll discover more than 700 tables and well over 1,200 slot machines.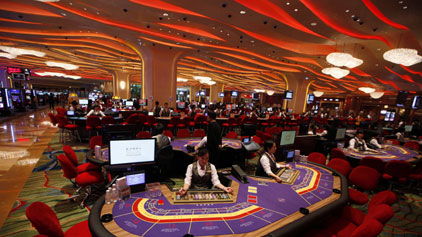 Table games include four casino favorites, blackjack, roulette, craps, and baccarat. But there's a lot more, including Casino War, Caribbean Stud Poker, Fan Tan, No Tax Baccarat, and 3 Card Baccarat. Plus, you can enjoy a wide range of low stakes slots and video poker machines that offer Jacks or Better, Double Bonus Poker, Double Double Bonus Poker, Deuces Wild, and Joker Poker. There is a ladies only room for those women who want to enjoy table gamble without any men around.
Table game minimums are relatively high. You won't find many, if any, $15 US ($100 HK) tables. Minimums start at around $40 US ($300 HK) and can go as high as $130 US ($1,000 HK), $1,390 US ($10,000 HK), and $10,300 US ($80,000 HK). This is an expensive casino at which to play.
Hotel rooms are nicely appointed and offer good views. However, they are in no way extravagant and can be pricey depending on the day of the week. There are five restaurants, including 888 Gourmet Palace, Copa Steakhouse, and Perola. You'll find Asian, Portuguese, and Western style food at the Sands. Bars include the upscale Playboy Club where Playboy Bunnies serve drinks and live music can be enjoyed. The Sands Macao is a Vegas-style establishment but without the entertainment.
Starworld Macau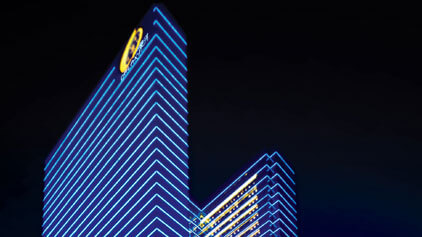 Avenida da Amizade
Macau SAR
P.R. China

(853) 2838 3838
Basics:
Opened: 2006
Owner: Galaxy Entertainment Group
Pros

A good number of gaming tables
Poker room
Good value at restaurants
Cons

Limited number of games offered
Hard to get a room on weekend
The Starworld Macau is a fairly spacious casino that offering gambling on the first, third, and tenth floors. The first floor has 94 gaming tables and over 200 slot machines. The third floor is the site of one of Macau's few poker rooms, while floor 10 is where you'll find Starworld's VIP baccarat club, Jinmen Club.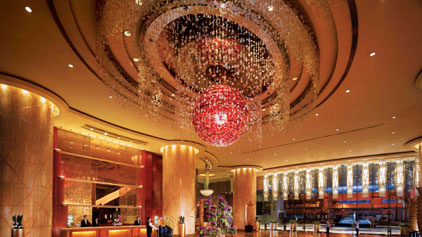 The casino offers only four games, roulette, baccarat, Caribbean Stud Poker, and Sic Bo. Table game minimums are fairly high, as they start at around $40 US ($300 HK). The poker room offers no limit Hold'em at blind levels starting at $1.30/$3.25 US ($10/$25 HK) and going up to $26/$52 US ($200/$400 HK). Most slot machines can be played for under $1.00. HK
The Jinmen Club is private, but public high rollers do have access on the tenth floor to 13 baccarat tables with minimums that start at $129 US ($1,000 HK) and go up to $387 US ($3,000 HK). You'll also find a dozen slots with their lowest bets being $0.15 US ($1 HK) and $0.75 US ($5 HK).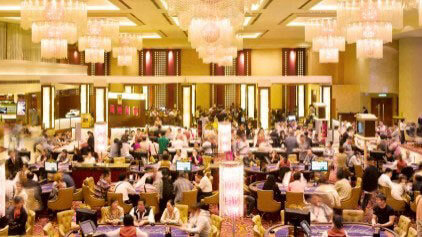 Player cards come at three levels, Gold, Platinum, and Black. They may be used to purchase an assortment of items, including wine and liquor, jewelry, cell phones, and more. There are also various promotions, including a sign up bonus and daily slot bonus.
The Starworld Macau hotel, which has 501 rooms, is popular with junkets, which makes getting a room on the weekend difficult. Accommodations are spacious and include various creature comforts. Room grades are Deluxe, Executive, Premier Suite, and Starworld Suite, with that final one being the best of the best. The pool, which is on the 17th floor, offers a pleasant view of Macau. But it is small, as is the health club. There is no sauna, little entertainment but for some lounge bands and dancers, and very few shops. The restaurants offer good value and for the most part focus on Eastern cuisine. With limit variety in games, Starworld Macau is not for everyone, however, it is a very fine casino hotel.
Venetian Casino Resort Macao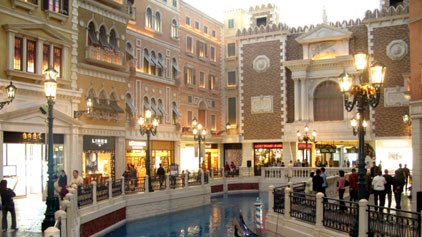 Estrada da Baía de N. Senhora da Esperança
Taipa, Macao SAR
P.R. China

(853) 2882 8877
Basics:
Opened: August 28, 2007
Owner: Las Vegas Sands
Pros

Huge range of table games
Great shopping
Great rooms at low rates
Cons

Drink service is slow
Hard to find swimming pools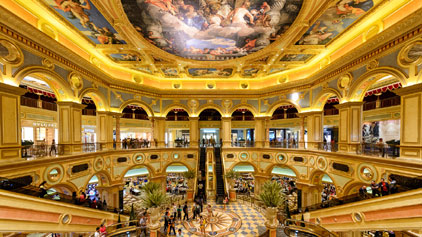 The Venetian Macao is the largest and one of the most luxurious casino resorts on the globe and a great place to bring the family. Everything is big here, as the hotel includes 3,000 guest rooms and suites, the casino offers a gaming floor that is expansive, and the shopping mall is premium in every way. The signature Venetian gondoliers are plentiful as they move their crafts along the canals that define antique Italian water avenues in the captivating area known as the Grand Canal Shoppes. The Venetian is not just a little bit of Vegas in Asia. It's a whole lot of Vegas and much more.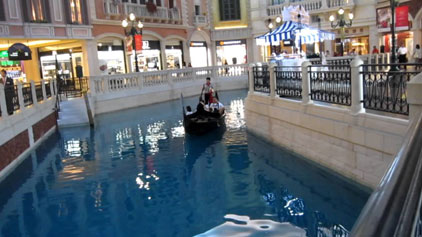 There are 300 gaming tables at the Venetian Macao. You will find all of the standard casino games, including blackjack, roulette, baccarat, and craps, as well as many others such as Sic Bo, Dragon Phoenix, and Fan Tan. The only games not available at this Macau casino are Pai Gow and Yee Haw HIM. Minimums start at $25 US ($200 HK) with some table minimums at $250 US ($2,000 HK). There are over 2,000 slot and video poker machines. Most slots have minimums ranging from under $0.10 US up to $15.00 US.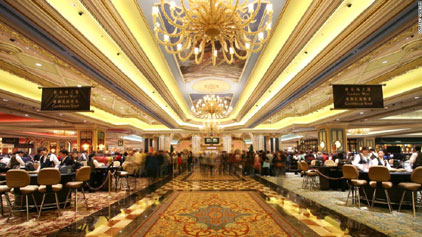 Promotions are similar to those you'll find at Las Vegas Sands casinos, which include various discounts, redeemable player's points, and room upgrades. To get significant rewards, you'll need to become a member of the Diamond Club, which is for high rollers.
The property includes a huge number of restaurants, bars, and shops. A whole world of food is available at the Venetian Macao and there are over 300 stores on the Venetian's third floor in the Grand Canal Shoppes. Entertainment is varied and has included everything from top boxing matches to the Rolling Stones and from Cirque de Soleil's Zaia to The Manchester United Experience. The Venetian is a first-class establishment.
Wynn Macau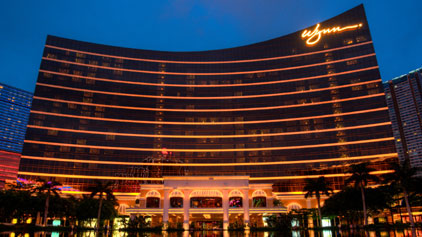 Rua Cidade de Sintra
NAPE, Macau SAR
P.R. China

(853) 2888 9966
Basics:
Opened: September 6, 2006
Owner: Wynn Resorts Limited
Pros

Fantastic hotel
Great food
Low house edge EZ Baccarat
Cons

Overall the casino is small
Needs more table game variety
The Wynn Macau was the first Vegas-style casino in Asia, and it certainly created a big splash. The hotel at the Wynn, which includes the 57-story Encore Tower, which was added in 2010, has just over 1,000 rooms. The Wynn hotel is considered to be one of the finest in the region. Along with upscale rooms, there's an impressive health club and spa, a beautiful pool area, 25 upscale shops, and eight restaurants and numerous bars.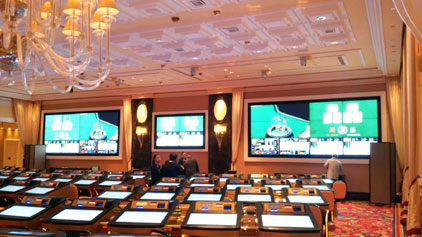 It's interesting to note that of all the things that the Wynn offers the casino is considered by many to be the least successful aspect of this fantastic hotel and gaming facility. The interior of the gaming rooms is repetitive and confusing, as it's difficult to tell where you are at any given time. The gaming is all on one floor and although the number of tables is large, the same cannot be said for slots at the Wynn. The number of gaming tables totals 230, and there are 375 slots.
Table minimums are high, as they start at about $40 US ($300 HK), while slot minimums are low, as they can be played for as little as two cents. Table games include all of the popular offerings, such as roulette, craps, baccarat, and blackjack. In addition, you can enjoy Commission Free Baccarat, EZ Baccarat, Caribbean Stud Poker, Sic Bo, and Three Card Poker.
There's also an active poker room that offers Texas Hold'em at 11 tables with three being reserved for VIPs. Blinds are $10/$25, $25/$50, $50/$100, $100/$200, $300/$600 (HK). You can also enjoy video poker and electronic versions of Sic Bo, baccarat, and roulette.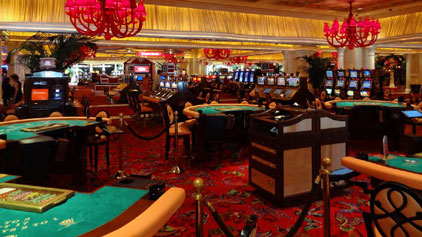 If you are looking for Las Vegas style entertainment, you won't find it at the Wynn. In Macau, there are only two casinos that offer such, the Venetian and the City of Dreams. They do bill the Dragon of Fortune, Tree of Prosperity, and fountain show as entertainment, but doing so is inaccurate. The Wynn Reward Program is confusing, as points are awarded in various ways, depending on what you play. Like other such programs, you earn points to get discounts, upgrades, and purchase items. The Wynn hotel is tough to beat, while the casino is fine, but less than inspiring.
Top 10 Attractions and Things to Do
There is a lot to do in Macau besides gamble. This is a culturally diverse area that is defined by natural beauty, a melding of Western and Eastern cultures, and rich history. If you'd like get out of the casino and hotel, consider touring some of the neighborhoods, checking out one of their lovely beaches, or going to a museum. Here are 10 interesting places to go and experiences that you can enjoy.
A-Ma Temple

– Constructed in 1488, this is the oldest and best known of Macau's various Asian temples. The temple, which may be found on the southwest point of the peninsula, was completed prior to Portugal's colonization. That fact means that the Taoist temple has immense historical importance and is eminently significant in informing the cultural identity of those native to Macau. The temple is dedicated to those who fish the waters and travel the seas, and its deity is the water goddess Matsu. It is said that the name Macau is derived from the temple name A-Ma. The temple is comprised of six primary sections. Those are Gate Pavilion, Memorial Arch, the Prayer Hall, Hall of Benevolence, Hall of Guanyin, and Zhengjiao Chanlin. The Hall of Benevolence is the oldest section of the A-Ma Temple with other parts being added over time. Zhengjiao Chanlin is the Buddhist Pavilion. The temple has been on the UNESCO World Heritage List since 2005 when it was declared to be one of the sites associated with the Historic Center of Macau.

Fisherman's Wharf

– Located close to the ferry landing, Fisherman's Wharf is a massive theme park measuring 111,500 square meters (1,200,000 square feet). Included are world-class shops, restaurants, an amphitheater, and thematic port towns, such as Cape Town, Amsterdam, New Orleans, and Lisbon. For those who love clubs, bars, and dancing, there's also a lot of nightlife at Fisherman's Wharf. If you'd like to shop or enjoy different activities, this is the place to go.

Guia Hill

– On top of Guia Hill sits Guia Fort and Lighthouse. The fort, which was constructed in 1865 as a defensive measure, and the lighthouse, overlook Macau. Guia Hill offers those who occupy it quite a view of the area, including the surrounding waters and city. Tour the area to enjoy panoramic vistas from the summit of Guia Hill. Guia Fort will take you back to the mid-19th century, as you walk through and view the barracks, ammunition depot, commander's house, and other areas. Plus, there's Our Lady of Guia Chapel. To get to the top of Guia Hill, visitors may take the world's smallest cable car. The Guia Lighthouse, which is a prominent part of the fort, was also constructed in 1865 and is the oldest such structure on the Chinese coast. It is also diminutive, standing 91 meters (298 feet) high, but it is powerful, as its beam can be seen from 32 kilometers (20 miles) away. Guia Hill also provides visitors with some fun hiking trails.

Hac-Sa-Beach

– Macau has some wonderful beaches. Hac-Sa-Beach, which translated means Black Sand Beach, is well worth a visit. Stroll along the black sandy beach, enjoy the water, and take in some sun. This inviting, crescent-shaped beach is the largest in Macau. Plus, it's conveniently located adjacent to the Hac Sa Sports and Recreation Park where you can utilize outdoor barbecue facilities, volley on tennis courts, enjoy swimming in their family friendly pools, rent jet skis, play miniature golf, and much more. This is a great daytrip for the entire family.

Macau Historic Center

– Macau, which was inhabited by the Portuguese in the mid-16th century, saw many of those native to the area become Christians. Along with strong European and Christian influences, Macau also has a great amount of Chinese culture and history that defines it. A visit to the historic center of Macau offers visitors a fascinating glimpse of how the region managed to combine Eastern and Western values and cultures. You'll discover unique architecture, interesting historic resonances, and distinctive environments. This is a wonderful place to walk and explore the narrow streets, mosaic lanes, beautiful gardens, and other unique aspects of Macau.

Macau Maritime Museum

– This museum offers insights into the various connections that Macau has with the sea. The Macau Maritime Museum, which is located in Barra Pagoda Square beside the historic A-Ma Temple, opened in 1987. The original museum was an aging mansion, but in 1990 a new building was constructed specifically to house and showcase Macau Maritime Museum exhibits. Macau's connection to the sea is important for many reasons, as fishing was an essential part of Macau's economy, the waters were instrumental in it becoming a colony of Portugal, and all aspects of the surrounding sea are intimately connected to the region's culture and history. Exhibits include those focusing specifically on Chinese and Portuguese seafaring subjects, including those related to naval, cultural, and economic issues. Exhibits include archeological discoveries of ships and other vessels that were made in 1993, historically accurate models, photographs, and videos.

Macau Tower

– This is the tallest structure in Macau, standing 338 meters (1,109 feet), and it features a tethered "skyjump" and a Bungee jump. At 233 meters (765 feet), Macau Tower offers visitors the chance to use the highest commercial skyjump in the world and the second highest commercial decelerator-descent facility on the globe. Only the Stratosphere skyjump, which stands at 252 meters (827 feet), in Las Vegas is bigger. When you jump you'll reach up to 200 kph (124 mph). But you don't have to jump to have a great time here. Macau Tower includes shops, theatres, and restaurants. You can enjoy panoramic vistas from the observation deck, as you'll be able to view objects from 55 km (34 miles) away. If you're adventurous, take the wondrous and heart-pounding tour of the tower's exterior rim known as Skywalk X.

Nam Van Lake Cybernetic Fountain Show

– This is quite a production, as 86 jets shoot water 80 meters (262 feet) high in a brilliant laser show that utilizes 288 multi-colored, high-intensity spotlights. The Nam Van Lake Cybernetic Fountain, which is the largest water-projecting device in Asia, offers a beautiful and spectacular demonstration, and it is free. Be sure to check the show schedule prior to going to the fountain, as times fluctuate.

Sun Yat Sen Memorial House

– Built by Dr. Sun Yat-sen, who helped bring modern Western medicine to China, was a revolutionary leader, and became the first President of the Republic of China, the Sun Yat Sen Memorial House serves as a museum today. Built in 1912, Dr. Sun lived in the home for a brief but important time while he was developing his revolutionary plans. It was that revolution that would overthrow regime of the Qing Dynasty in 1912. In 1913, his wife, Lu Muzhen, set up residence in the house with their two daughters, Sun Yan and Sun Wan, and son, Sun Ke. In later years, Dr. Sun and his family would spend time in the house. The Sun Yat Sen Memorial House, which is built in mock-Moorish style and features broad verandahs and open courtyards, offers visitors an overview of this important man's life. Included are personal artifacts, letters, books, and photos. The house is both an architectural gem and a fascinating history lesson.

Taipa Village

– There are various wonderful villages in Macau, and Taipa is one of them. Located on the southern area of the island, this quaint settlement offers visitors an amazing range of architecture that includes the ruin of Sao Paulo Church, ancient Asian temples, colonial homes, and offices reflecting Portuguese taste and style. The streets are narrow, the markets busy, and the Macanese food fresh. Walk amongst hanging flower baskets, street lamps from long ago, and classic street vendors. You'll savor the authentic tastes of the region on Food Street, which is also known as the Rua da Cunhna. If you're up for some gambling, there are various casinos nearby and the Macau Jockey Club. But the real reason to visit this village is to experience the culture of Macau.
Getting There
It's important to realize that travelling to Macau involves a different protocol than when you go to Hong Kong or Mainland China. Thus, when doing so, you may need a visa that provides you with multiple entries. To get to Macau, you may take the ferry from various points in Hong Kong or China. Also, you may fly into the Macau International Airport, which is located off the Taipa shore.
Cost
Overall, Macau can be relatively inexpensive. For many, the biggest costs are associated with flying to China, Hong Kong, or the Macau International Airport, and then with gambling. In terms of US Dollars, which will be used in all examples in this section, a flight from North America can cost anywhere from $800 to $1,600 one-way. Airlines that fly to Macau include Air Macau, Air China, China Northwest, China National Aviation Corporation, Asiana, Korean Air, Malaysia Airlines, and Pacific Airlines.
Once there, an economy ticket on one of the ferries is between $25 and $40. A room at a good hotel will run anywhere from $180 to $400 per night. Meals and drinks per day average from $20 to $60 per person. It's easy enough to spend very little on the extras, although Macau, like Las Vegas, loves high rollers and those who partake of the good life.
One very important note: bring HK Dollars with you to Macau, which you will then exchange for Patacas, which is the currency used in Macau.
Environment
Although Macau is quite safe, it is also very crowded. Be wary of your surroundings and especially of pickpockets, aggressive street vendors, and possible con games. You'll find that many casinos allow people to smoke, and that many gaming rooms can be overwhelmingly loud. Phone coverage and Wi-Fi is very good on Macau.
Because Macau is situated on a small peninsula and the area is quite compact, a very popular way to get around is on foot. Exploring the area in this way will give you immediate access to the various neighborhoods and areas that offer wonderful sites, lots of history, and diverse culture. Car rentals are not recommended. If you would like to drive, try a simple scooter. They're much better than a car for navigating the narrow Macau streets.
The climate of Macau is subtropical. Changes in temperature are associated with its coastal location and the seasons are influenced by monsoons and the winds associated with them.
The seasons run in the following manner: March and April is spring, summer runs from May through August, and autumn from September through October. Winter is from November to February. The two monsoon seasons are from November through February when the cold and dry northeast monsoon comes in, and May through August, which is the hot, humid, and rainy southern monsoon. April and May tend to be wet and foggy. In autumn, the weather is sunny and warm.
The average temperature on Macau is 74°C (23°C). Summer temperatures can reach up to 91°C (33°C) while winter temperatures may go down to 50°C (10°C). Light clothing is recommended for the summer. In autumn, it's good to have a sweater, while a jacket may be used during the cooler months. Because there is quite a bit of precipitation in Macau, it's good to always have some rain gear. May through October is especially wet. The best time to visit Macau in terms of optimum weather conditions is October through December. During that time, it tends to be fairly warm, sunny, and dry.
When visiting temples be respectful. Usually you don't have to ask permission to take photos unless posted. The people in Macau tend to be friendly to those from other countries. In terms if drinking, drunkenness is not permitted and binge drinking is not allowed.
Typhoon season is from July through September. There's a typhoon warning system, categorizing five different storm strengths. The system uses numbers to rank these storms with those rated as a 1 or 2 not considered to be very strong or dangerous. If a typhoon rated 8, 9, or 10 is anticipated the peninsula shuts down.
History of Gaming in the Region
Gambling was legalized in Macau in the mid-19th century in order to raise revenues for the government. Late in the 19th century, the authorities began licensing fan tan houses, which offered this Chinese gambling game. At one point, the government monopoly had licensed 200 fan tan locations in Macau.
In 1937, the government gave the Tai Heng Company permission to run gaming houses. This did not yield very productive results. In 1962, a new monopoly was granted to the Sociedade de Turismo e Diversões de Macau (STDM). This was a syndicate comprised of Hong Kong and Macau businessmen who possessed all types of gambling rights on the peninsula.
It was this group that initially offered Western types of gaming to Macau. Along with introducing new gambling opportunities, STDM improved ferry service between the peninsula and Hong Kong. These innovations brought millions to Macau to gamble. The syndicate had its license renewed by the government in 1986. At that time, they were given a 15-year extension. During the extension time, in 1999, Macau became a part of the People's Republic of China. It was then that they became a special administrative unit of China.
In 2002, the monopoly system was discontinued. Operating licenses for the three, and eventually six, casinos on Macau were awarded to Sociedade de Jogos de Macau. Also known as SJM, it is an 80% owned subsidiary of STDM. In 2004, the Sand Macao opened, which marked the start of Las Vegas companies investing in the region's gambling industry. In 2006, Wynn Macau opened and in 2007 the Venetian Macao and MGM Macau opened their doors. Presently, there are 33 licensed casinos operating in Macau with 16 owned by STDM.
For the Best Gaming Experience
During the past year, Macau has seen a substantial decrease in tourism and gaming revenues have also dropped precipitously. That means that you can find bargains in Macau. Note that during the Lunar New Year, the casinos and hotels in Macau are very busy. It's a great time to go there if you want to be part of that crowd and have that unique celebratory experience, but you'll pay the prime rate for everything. Also, weekend hotel prices are two to four times what they are during the weekdays and rooms are much harder to book.
Before planning your itinerary or securing for your hotel in Macau, you should determine exactly what type of experience you want to have. If you're looking for the complete Las Vegas experience, including great entertainment, restaurants, and shops, then the Venetian or City of Dreams are for you, but if it's all about the gambling experience, then the MGM Grand Macau or Emperor Palace Casino may be the right choice. The Wynn is probably the most fantastic facility in Macau, but the gaming rooms are not as good as many of the other casinos.
Also, make sure you leave time to tour around and see the sites, experience the neighborhoods, and learn about some of the region's fascinating backstory. Macau is an exciting, exotic, and extraordinary place to visit and gamble. Make the most of your time there.