Bet365

Sports Betting

2017

Review

The 30 Second Guide To Bet365 Bookmaker
Mobile betting support

Huge selection of sports and races to choose from

Simple layout
Easy interface for all mobile devices

Live betting options

Exciting regular bonuses
Bet365 is one of the leading online bookies sites available to Australian players today. It offers a massive collection of sports and events to bet on, and provides a nice clean interface that makes it easy for anyone to place just the wager they are interested in most.
Information
Sportsbook Name

bet365

Payout %:

96.59%

Payout Speed:

Instant to 10 days depending on service

Platforms

Payment Options

Free Phone:

08000 288 365

Email:

Website:
Bet365 is a well-established online betting venue that offers one of the largest selections of sports betting events and types to choose from out of all the online sites. When you use the site it's easy to get started and you'll be able to pick one of many different deposit methods to fund your account with real money. Players remain at Bet365 over the long-term thanks to convenient live betting features, and exciting promotions that are offered regularly.
As a new customer to Bet365, you'll enjoy bonuses the moment that you make your initial deposit. New players benefit from a 100% match bonus of up to AU$100, and there are other bonuses available to players with existing accounts that want to place regular bets.
There are monthly bet specials available for a range of sports options. Throughout the month you'll notice that the specials change and that there are new incentives available for players interested in placing additional wagers.
When you're putting together a review on sports betting sites, the most important detail is the sports that are covered by that service provider, and how easy they are to make bets on. This is a positive area of the Bet365 sports review, because there are just so many options available, and they are all easy to make use of.
When you join the site, you'll quickly see that just about every type of sport is covered and you can bet on them all. Here's a breakdown of the major sports that you'll see at the website.
Tennis
Volleyball
Winter Sports
Motor Sports
Australian Rules Football
American Football
E-Sports
Cricket
Basketball
Darts
Cycling
Ice Hockey
Horse racing
Greyhound racing
Golf
That list doesn't even cover all the sports that are available to Australian players to place real money wagers on. When you want to place a bet in AUD, you can pick out the sport that you like by clicking on the side button, and then choose the exact event that you want to put money on. It's a fast system that's highly organized and easy to use for so many different sport options to choose from. There are few other Bookies online that work as well as this site does, and that says something.
Review of Bet365 Mobile App

Bet365 makes it easy for mobile players to get started placing bets on the go, whether they want to access the site instantly or through an app. It's one of the few sites that offers an app for Android, iOS and Windows Phone users. Even if you have a device such as a Blackberry Playbook, Nokia Lumia, a Sony, an HTC or a product like Kindle Fire, you should have no trouble making use of the website to place your bets. That's the beauty of Bet365, and why it's such a good location for mobile players that want to gamble while on the go.
While playing at Bet365 on a mobile device, you'll quickly notice the excellent bonus opportunities available. It's hard to ignore large deposit matches, and exciting opportunities to enhance your bets for free. You'll have plenty of sports to choose from and can place all the same bets using a mobile device that you would with a computer. The support for just about every single device means that you don't have to worry about which device you have at home. No matter what type of sporting event you enjoy watching, you can probably wager on it using the very capable mobile sports betting site offered by Bet365. That's the benefit of following sporting events with Bet365 specifically.

Download the Mobile App
Bet365 Mobile Highlights
Apps for iOS, Android and Windows Phone
Good range of tournaments to bet on
Easy interface for simple gambling
Get started in minutes
Enjoy bonuses just like computer users
Mobile Bonus
While putting together the Bet365 review, I noticed that there are plenty of opportunities available to mobile players. AS a player on the mobile website, it's possible to take advantage of a range of bonuses that are available to computer users as well. From the moment that you place your initial deposit, it's possible to get up to AU$100 in bonuses from the site. These bookies make it easy to obtain the real money bonus, and it can be put toward your future bets.
Get Started Fast
Betting with a mobile device should be quick and easy, just like it is with a computer, and at the Bet365 sports betting site, it is. You simply turn on your mobile device and visit the mobile version of the site's website. As soon as you visit the site, you'll be presented with sports betting tips, sports betting odds and a selection of sports that you can bet on. To place your wager, simply choose the event that you are interested in, choose the side that you expect to win, and place your wager in AUD, or another currency that you would like to use. The process is quick and easy to go through, and something that any player can do quickly.
iOS Users
Head over to iTunes or download the Bet365 app right from the mobile website
Install the app on your iPhone or iPad device.
Sign into your app to begin looking at the available sports to bet on
Choose a sport and place your wager
Android Users
Visit the Best365 website using your mobile device and download the app
Install the Bet365.apk file onto your smartphone or tablet
Sign into your account on the app
Choose the sport to bet on and place a wager
Windows Phone
Head over to the Bet365 website and choose the appropriate link for your device to download your app.
Install the Bet365 file on your smartphone or tablet to get it running
Sign into your account and choose the game that you want to bet on
Place a wager and wait for the results to find out if you won or not
Bet365 Casino Mobile Screenshots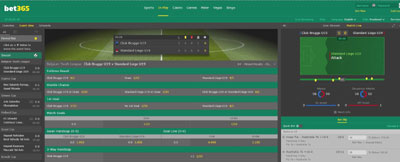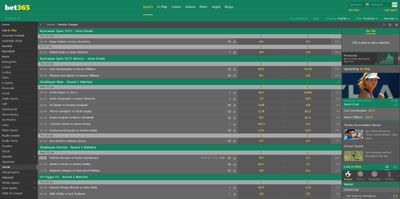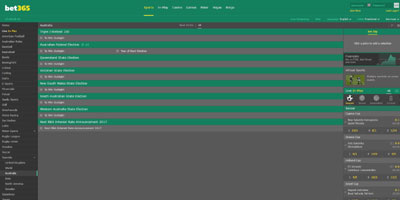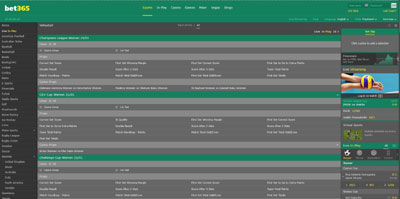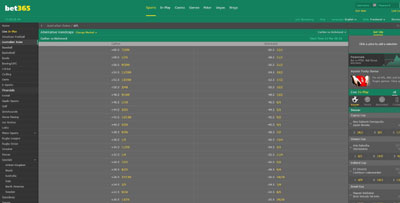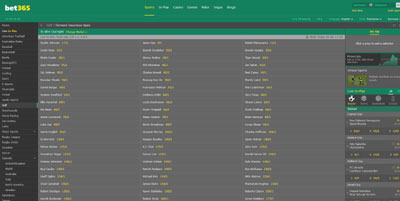 Download the Mobile App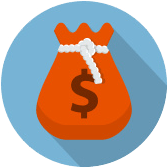 To start playing at a new casino you have to go through the signup process. Most of this is simple and just means putting in some basic pieces of information, that is until you come to the funding process. Then you need to choose a funding option that you are familiar with and authorize a transfer from one of your financial accounts into the Bet365 website so that your account has some Australian dollars available for betting purposes.
Many bookmakers make this process overly complex, or give you too few options to choose from so you end up with something that you aren't familiar with, or you are forced to create a new account instead of using an existing one. That isn't the case with the Bet366 Sports Betting Strategy site. Instead, you have plenty of options to choose from, and just about everyone can find something that they can use easily.
Here's a breakdown of the most common options available to players at Bet365.
Visa Credit or Debit
MasterCard Credit
Maestro Debit
Neteller
Skrill
PayPal
iDebit
PaySafeCard
Cheque
Bank Wire
Entropay
FastBank Transfer
Each of these available options will help new players add real cash to their accounts. As a player in Australia, you can rely on most of them to fund your account quickly and easily. Choose one that you are familiar with and add the money immediately.
Customer Support and Supported Languages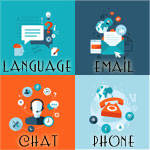 Customer support is a pretty big deal at any bookmakers website, and we made sure not to skip over this as a consideration when making an online assessment of Bet365. The real cash site offers several different ways that you can reach out for help if you run into a problem. You can give the company a call and speak with a representative over the phone. You could use the live chat service to type with an expert using your computer and get help immediately. You could also send out an email to Bet365 detailing your problem, and get a helpful answer back relatively quickly. When making this Bet365 Sports Betting review, I was pretty impressed with the different options available to players and how easy it is to get help.
Bet365 supports most languages spoken around the world today, making it one of the most accessible bookies available today. No matter if you speak Spanish, English, German, Italian, Portuguese, Chinese or another language, there's a very good chance that you'll be able to use the website in your native language and place bets simply.
Here's a quick breakdown of many of the supported languages.
English
Spanish
Italian
Portuguese
Danish
Nordic
Swedish
Chinese
Japanese
Polish
Russian
Czechoslovakian
Dutch
If you speak any of the languages listed up above, you should have no trouble accessing a language-specific version of the website for your uses.
There are few online bookmakers that even come close to Bet365 in scope or simplicity. It's so easy to place bets using this service that every player can get started quickly and bet on the sport of their choosing. As a new player you'll enjoy access to quality bonuses, and you'll be amazed at the sheer selection of sporting events that's available to you. Spend a bit of time going over all the possible options, and you'll quickly see that you can bet on just about every event that you are interested in.
Even new players can get going with Bet365 easily, because there are many different deposit methods that are supported, and the design of the casino makes it user-friendly to players that are brand-new to gambling. No matter how skilled of a player you are, you can get something special out of your time at Bet365. Just take the time to become familiar with the available offerings and make sure that you are choosing a sporting event that you are highly interested in. Betting can be done on a home computer, or on a variety of mobile devices. It's so simple to get started with the Bet365 sportsbook app or by using the instant-play mobile website, that you'll be ready to get going from the moment that you join the website.
Reviewed by: OnlineCasino.com.au™
Play at Bet365 Casino with your £200 Bonus Now!