Online Casino Deposits and Withdrawals Guide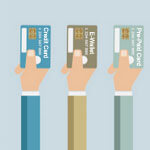 A key aspect of playing at an online casino is how conveniently players can deposit and withdraw their funds. Here is a step-by-step guide on the different deposit and withdrawal methods available to players.
Deposits
First make sure you have signed up for an account with the online casino you wish to play at.
Click on the "Deposit" icon on your account details page.
Decide which deposit method you would wish to use to add funds to your casino account.
Select the amount you would like to deposit.
Confirm the deposit method and amount to be deposited.
The funds should enter your casino account immediately.
Withdrawals
Decide how much of your casino account funds you would like to withdraw. Most casinos require a minimum withdrawal amount of A$10 or a value similar.
Click on the "Withdraw" icon on your account details page. This can sometimes be harder to find than the "Deposit" icon.
Select the method of withdrawal you wish to use.
Confirm the amount you wish to withdraw.
Check the method of withdrawal to identify how long it will take for the funds to transfer from your casino account to your bank account.
Check your bank account after the expected number of days for transfer to confirm funds have been withdrawn successfully.
There are a number of deposit and withdrawal methods offered by casinos. Here are a few of the more popular methods...
Credit Cards (VISA, Master Card, American Express, etc)
These are the most commonly used methods of depositing and withdrawing at online casinos. They are easy-to-use, convenient, and widely accepted. The advantages include a direct link between your bank account and your online casino account so you do not have to use a third party medium to transfer funds. Visa and MasterCard also fall under this.
However, the disadvantage is that this does have potential security issues that do not exist with third party medium payment methods. It also takes 3-5 days for any withdrawals from your casino account to reach your bank account. Fortunately, this is a delay that does not exist when it comes to deposits that transfer from your bank account to your casino account immediately. It is also free to use this method of transfer but some credit card issuers do charge a cash advance fee when depositing at casinos online.
A key aspect of playing at an online casino is how conveniently players can deposit and withdraw their funds.
E-Wallets (PayPal, Instadebit, Ecocard, etc)
These payment methods give players extra peace of mind when playing at casinos. Security is an absolute necessity and e-wallets like Skrill and PayPal act as a third party medium where they can transfer money from their bank account before transferring it into their casino account, limiting the risk of hackers stealing their banking information.
The negative side of this is that it technically requires a two stage deposit process. The first stage is transferring money from their bank account to their e-wallet and then the second stage is transferring it from their e-wallet to their casino account. This is a procedure that is reversed for the withdrawal process. On the plus side, both deposits and withdrawal transactions are processed instantly so there is not the 3-5 day wait that comes with credit card payments.
Prepaid Cards (Neteller, Entropay, Ukash, etc)
These are another method of payment at casinos that cater more for the players that want to prioritise security and limit the direct exposure of their bank account. The benefits of this process are that there is the option to only put the funds on the card that you want and that reduces the risk of losing track of how much you deposit. It is also a safe and secure way to transfer your funds. The most popular methods under this format are Ukash and Neteller.
The downside to using prepaid cards includes the hassle it brings. You are essentially depositing funds onto the card before you have even considered depositing funds into your casino account. It is effectively requiring you to make two deposits for every deposit. Once again, this is negated by the fact that it is free to do without the casino taking a transaction charge and payments are processed instantly.
Wire Transfer
If you are not concerned with any potential security risk that could materialize from you linking your bank account directly to your casino account then wire transfer is widely accepted by online casino operators. This is a direct transfer of funds from your bank to your casino account. It is easy and convenient and does not require the use of your credit or debit card details.
Unfortunately, wire transfers bring with them potentially high transaction charges. On the deposit front, there is no charge but sometimes the funds can take a while to enter your casino account as they need to be cleared before they can be used. When it comes to withdrawals, the process is instant but a charge can be applied if the withdrawal is below a certain amount. For Australian players, this fee can be as high as A$10.
E-Checks
Working in very much the same way as normal checks this payment method does not require any paper. You simply need your bank account details and you can fill in the e-check and it will be sent to the casino.
This is arguably the most laborious method of depositing and withdrawing but it does make certain that the transaction is checked over by the casino more stringently erasing the possibility of someone misusing your account details. Yes, it can take longer to transfer the funds but it is certainly one of the most secure payment methods.
Credit Card Refusals
One thing to be wary of when using credit and debit cards as a method of depositing or withdrawing funds is that it does open up the potential for your card to be refused. There could be a number of reasons for this including limited funds in the account or your bank denying access to the card due to suspicions of fraudulent activity. This can result in casino deposits not accepted and you end up wasting more time trying to amend the transaction using a credit card than you would have done using another method.
POLi Payment Method
POLi
is another method of payment that can be used at online casinos and is specifically available for Australian and New Zealand players. In fact, it is Australia's top real-time online payment method. It has been operating since 2006 and although it is not a globally-renowned brand it is still a payment method available at a number of online casinos that are available for Australian players and worth considering if it is offered by the online casino. POLi does not require a credit card and offers in-depth details on transactions.