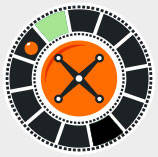 Guide To Online European Roulette
European Roulette is one of the more popular variations of roulette.
There are a few subtle differences compared to other forms of roulette, but it is quite an easy game to understand. Almost every online casino you play on will have the option of European Roulette, so it is worth learning the rules.
Our reviews team's top casino site, Slotomania, offers a very good European Roulette game, and all of the shortlisted sites on this page will provide variants of the game.
European Roulette Rules:
As with French Roulette, a European Roulette table has the numbers 0-36. 18 of the numbers are red, the other 18 are black and the zero is green.
The wheel is spun, a small ball is thrown on in the opposite direction, and wherever the ball lands determines whether or not you win your bet.
The numbers are all colour-coded on the European Roulette table as well as the wheel, with 18 of them red and 18 black, as well as a green zero.
Top Rated European Roulette Casinos
Related Tips
Blackjack Tips

Become an online blackjack expert with our top tips
Pokies Tips

Top tips for smarter online pokies play.
Roulette Tips

Improve your roulette play with our free roulette tips.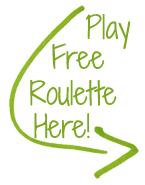 History:
European Roulette rules were set in place when the game made its debut in Bad Homburg in Germany. It is believed to have been introduced by French brothers Louis and Francois Blanc, and is the first version of roulette to have a wheel with just one zero. When European Roulette was introduced in 1843, French Roulette wheels still had two zeroes. Most casinos across Europe still use the original European Roulette rules, and French Roulette has since reverted to the single-zero model as well. European Roulette odds are easy to calculate, while the game is increasingly popular online due to its simplicity and can often be found on live dealer roulette games at online casinos. You will also be able to put your European Roulette strategy to the test at most of the big casinos in London, while many Las Vegas casinos also offer the European version as well as American Roulette.
European Roulette Bets:
European Roulette strategy suggests you can get more bang for your buck by mixing up inside bets and outside bets.
Roulette bets are divided into inside bets and outside bets. Inside bets include 'straight up' bets on a single number, 'split' (two numbers), 'street' (three numbers in a row, such as 1, 2 and 3), and 'corner' (four numbers which form a square on the European Roulette table, such as 1, 2, 4 and 5), and finally the six-line (two 'streets' which are next to each other on the table). Outside bets are either even-money bets (red or black, odd or even, high or low) or 2:1 bets on a set of 12 numbers. You can bet on numbers 1-12, 13-24 and 25-36, or on any of the three columns of 12 marked out on the table. European Roulette bets are the same as in most of the other main variants, with the exception of American Roulette.
European Roulette Odds:
You have a 1 in 36 chance of hitting a single number on a straight-up bet, and the payout is 35:1, meaning European Roulette odds give the casino a 2.70% edge. European Roulette differs from French Roulette by virtue of not having the 'La Partage' or 'En Prison' rules, both of which give players the chance to recover part or all of a losing bet if the ball lands on zero. Similarly, the odds of hitting red or black are just under 50% when the zero is taken into account, but a $50 bet will pay 1:1, meaning if your bet on red or black comes in then you win $50 plus your original stake back - over time, the zero will hit enough times for the casino's edge to come into play. This makes it easy to give European Roulette tips, as there are fewer variables and less of a casino edge than most other variants of the game.
European Roulette Strategy:
European Roulette tips are broadly similar to those in French Roulette, as both variants of the game have a wheel with just one zero. If you're a big gambler then you'll lean more towards straight-up bets, but European Roulette strategy suggests you can get more bang for your buck by mixing up inside bets and outside bets.
More Roulette Games Guides
Multi-Ball

Learn how to play Multi Ball Roulette and the strategies of the game.
French

Learn more about French Roulette with our rules and strategy guide.
American

Find the best American Roulette tips and strategy.
Frequently Asked Questions
How Does European Roulette Work?

European Roulette works in very much the same way as American roulette, except with one less zero on the board, providing a generous reduction to the house edge. Essentially, you pick what numbers you think the ball will land on and then spin the wheel. If you are right, you are rewarded with the appropriate odds.

Is It Popular?

European roulette is the most popular version of roulette thanks to the decreased house edge. It operates under the single zero rules, giving you a better shot at winning due to the reduced house edge. Some casinos are hesitant to offer this option, for obvious reasons, however we recommend that you use this version wherever possible!

How Does It Compare To Other Variations?

Apart from European roulette, there is also American and French roulette. American roulette utilises the double zero rule, increasing the house edge from around 2.6% to 5%. Obviously this is not a desirable option. French roulette offers reduced odds when you make even bets, because of the inclusion of the additional rules "La Partage" and "En Prison. However, most people prefer to stick to European roulette for its simplicity.

What Are The Odds Like?

European roulette has a house edge of 2.6% and is currently one of the most beneficial versions of the game for the player.

Can I Use A Roulette System To Play?

You certainly can. There are many hugely popular roulette systems that you can use to better you game, the most popular of which is the Martingale system. In this system you make an outside bet and double your money every time you lose. When you win you take away double your profits. While this seems like a sure fire way to win, be aware there are still risks involved as a lot of casinos have a maximum bet limit. If you don't win before you reach that limit, you will be significantly out of pocket! With roulette, there's always a risk.

More Popular Games